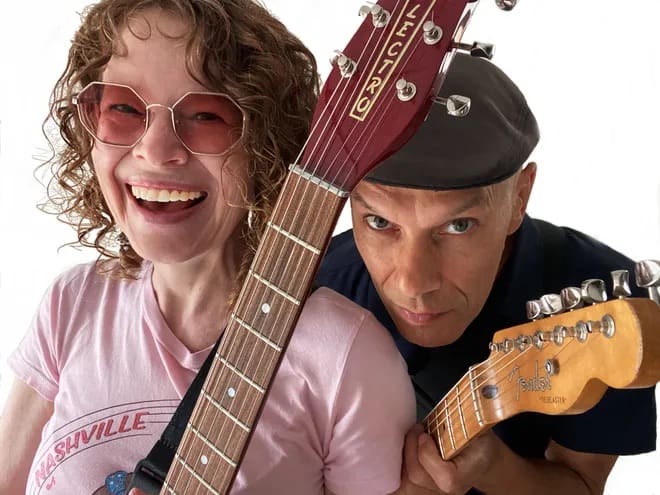 Natalie's Grandview presents Lil' Red & The Rooster on Charlie's Stage. For this happening hour performance, there will be no admission charge, but tips are greatly appreciated. Jump-up and shake a tail feather, or two, 'cause Lil' Red & The Rooster will roll out some smooth retro modern Blues just for you. Intimately real and at times hilarious they exude a contagious charm that guarantees you'll feel good no matter how haunting the melody or biting the message. They're a sassy, smokin', bone tremblin' slow-burn Blues balm.
They recently released their new album, "Keep On!" on Blue Heart Records. This international dynamic duo has been touring around the world together since 2010. This year they were at the prestigious Cognac Blues Passion in France, Heritage Music Blues Festival as well as Beautiful Swamp Blues featuring Dave Specter. They appeared on Songs at the Center, were finalists in the International Blues Challenge and can be found often at Buddy Guy's Legends in Chicago. 
Born in Normandy, France in the early 60's, Pascal Fouquet began studying classical guitar at eleven and discovered the Blue note a few years later. Since 1980 he's been a professional musician and never ceases to give homage to his master teachers: B.B. King, Albert King, T-Bone Walker, Kenny Burrell … and many others. A multi-award-winning guitarist he's had the pleasure of sharing the stage with many great artists including: Diunna Greenleaf, Dave Specter, Mike Sanchez, Steve Clayton, Russell Jackson, Candye Kane, Alex Shultz, Kid Ramos, Sax Gordon, Kenny "Blues Boss" Wayne and Sean Castello. 
Lil' Red, born in Columbus, Ohio in the late 60's, grew up loving Hollywood movie musicals especially Bojangles, Gene Kelly, Louis Armstrong, Ella Fitzgerald and the Nicolas Brothers. Rhythm and groove have always been her deep love. She studied everything in the arts: music, dance, acting, writing, painting, martial arts and meditation. She graduated from Fort Hayes Performing Arts High School for theater, holds a BFA in Musical Theatre from the Cincinnati Conservatory of Music and an MFA in Contemporary Performance from Naropa University.
RESERVATIONS: Reservations are strongly encouraged for our free Happening Hour Shows!
Date: Thursday, December 21