Lil Red & the Rooster – Corner Stage
Free Live Music (tips strongly encouraged)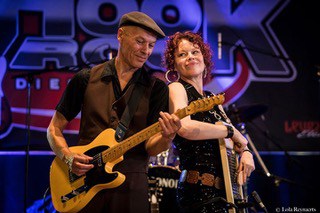 Natalie's Grandview presents Lil' Red & the Rooster performing on the Corner Stage, located on the restaurant/bar side of the venue. For this dinner performance, there will be no admission charge, but tips are greatly appreciated. Since 2010, the 2019 International Blues Challenge Finalists, Jennifer Milligan and Pascal Fouquet, have been writing and touring together around the globe. Touching and refreshing with bite and humor, their original songs come from their love for those old jazzy blues and post-war rhythm & blues. They're warm and inviting and their music is inspired and innovative. Backed by a deep in the pocket rhythm section, they deliver high energy Blues and Rhythm & Blues with a spirit full of hope and joy may inspire you to get up and boogie!
"I passed Lil' Red & The Rooster's set dancing and almost forgot to take photos." Blues Magazine, BayCar Blues Festival
Call us to make a reservation for the performance at (614) 436-2625!
Date: Thursday, August 4, 2022