An Evening with Evie Ladin, Adam Schlenker and Hayes Griffin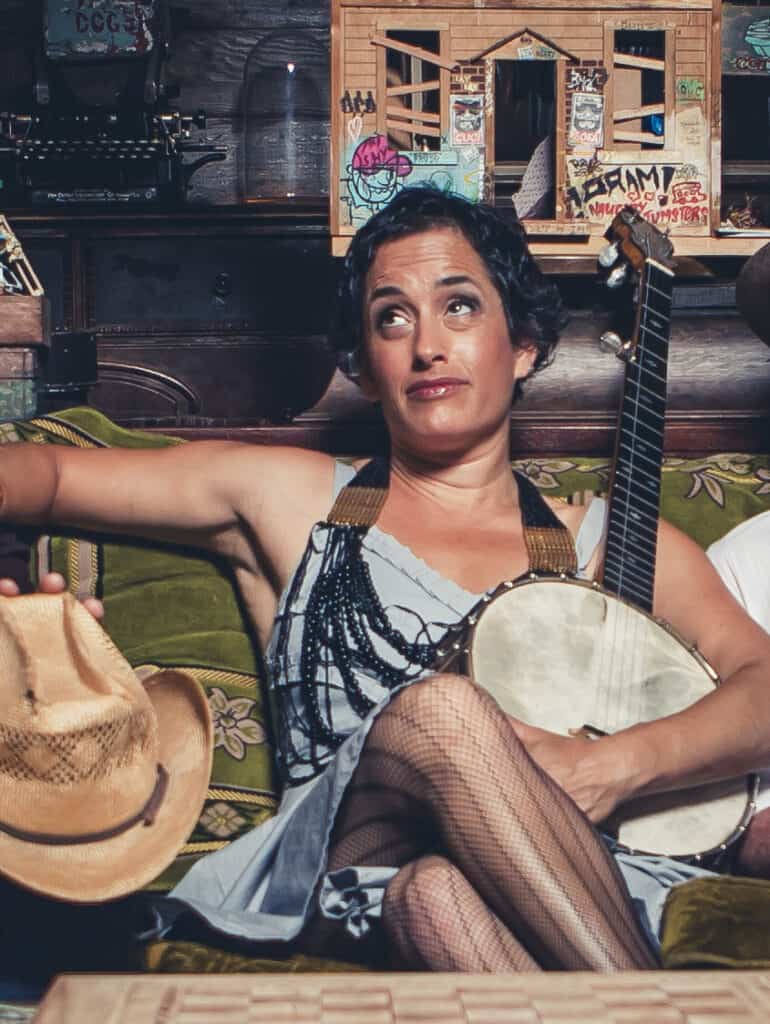 Banjo player, singer, songwriter, percussive-dancer, choreographer and square-dance caller, Evie has always been surrounded by music – credit to her upbringing as daughter of an international folk dance teacher, and an old-time folk music devotee, she grew up thinking that playing music, dancing, singing with others was what people do.  Though entrenched in the traditional cultural arts of Appalachia, her home was in New York City, Baltimore, now Oakland – in cities, not mountains. But tradition bearers came through and played in her living room, with weekends spent at music festivals and house parties.  Evie's performances, recordings and teaching reconnect Appalachian music/dance with other African-Diaspora traditions, and have been heard from A Prairie Home Companion to Lincoln Center, Hardly Strictly Bluegrass to Celtic Connections. Evie tours internationally with Keith Terry and her Evie Ladin Band; and has produced numerous albums and instructional DVDs. 
Adam Schlenker & Hayes Griffin Duo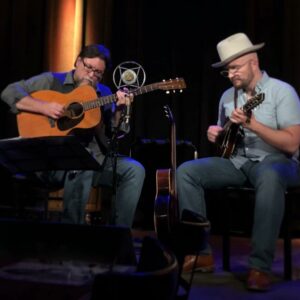 Every once in a while musicians find themselves in a pairing that is greater than the sum of its parts and this is certainly true for Adam Schlenker and Hayes Griffin. Geography kept the duo from working together regularly for several years but 2021 brought Hayes Griffin back to central Ohio and brought the pairing back to life. They quickly began exploring sounds through the American Roots Recap Concert Series where each concert reflects a different style or era in acoustic roots music. One sound that stood out to them was that of The Monroe Brothers and "brothers duos" of the 1930's in general. Their latest album, Long Journey Home not only celebrates the brother duo sound but also serves as the beginning of a new era for this duo. They set aside their original compositions for this project and focused on the standard material that helped shape the genre, paying homage to their roots and setting the bar for projects moving forward.
Hayes Griffin is a multi-instrumentalist and music educator living in Grand Rapids, MI. Griffin has over a decade's worth of experience touring with acts like Canadian fiddler April Verch and progressive bluegrass band Newtown, whose album Harlan Road featured Griffin's guitar work and debuted at #8 on the Billboard Bluegrass Charts.
Released in 2020, "Midwestern Swing" is Griffin's solo debut and delivers an aural cocktail inspired by the sounds of American country and swing music from the 1930's, 40s, and 50s. Original tracks are set next to "deep cuts" from legendary songwriter/performer Cindy Walker, Don Reno & Red Smiley, Tom Delaney, and Joe Gibson.
Hayes has also developed a presence in the mandolin community with his instructional content on YouTube, including his weekly series on the electric mandolin playing of Tiny Moore.
Adam Schlenker is an educator, performer, composer and arranger of Acoustic American Roots Music. He was born and raised in southern West Virginia, and is currently based near Columbus Ohio. Along with performing, recording and touring, Adam founded 5th Fret Productions in 2009 combining online, video based lessons with one on one instruction. He adopted online video conferencing early on as a teaching platform and now his private student base stretches across the US, throughout Europe and Australia. With 6,000+ followers and more than 1.2 million views on Youtube, Adam's approach to teaching and playing flat picking and Bluegrass guitar has influenced numerous players from all around the globe. He has been featured in and contributed to Flat Picking Guitar Magazine and is also an instructor at a number of music camps including the Nashville Flat Pick Camps and Perry Stenback International Guitar Camp (Denmark).
In 2018 Adam took on the role of Coordinator of American Roots & Bluegrass Music Studies at Denison University where he leads the Bluegrass Ensemble, Teaches a Seminar Course on composing and arranging roots music, teaches private lessons for guitar and mandolin as well as the History of Bluegrass & American Roots Music course.
Adam strives to develop music that reflects his influences while attempting to keep the music moving forward. Paying homage to his predecessors like Norman Blake and John Hartford through his own compositions. This approach to making music, innovation through tradition, continues with his latest album, The Ghost's of Pain Creek.
Food & Bar: Our full food and drink menu will be available before and during the show.
Date: Sunday, September 17