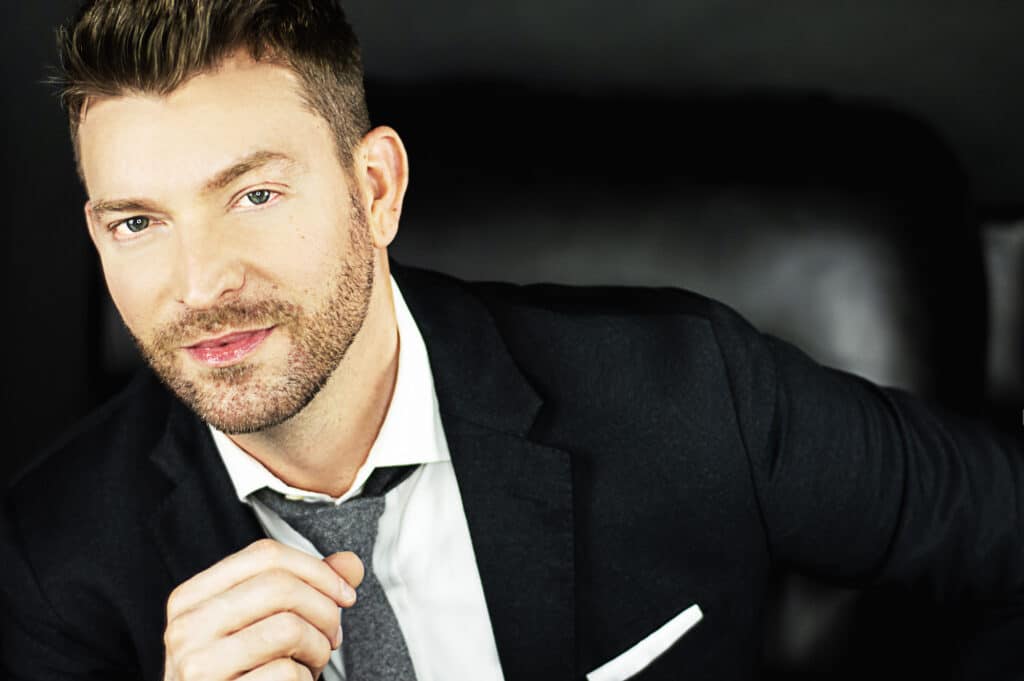 Experience an unforgettable evening as Tony Award-winner Levi Kreis presents the 9th Annual Home for The Holidays Tour. A seamless blend of americana, jazz and rockabilly, Levi gives a fresh and unique perspective to a flawless collection of Christmas classics and holiday favorites. From uproarious storytelling to soul-stirring renditions, Kreis will leave you laughing, crying, and filled with the spirit of the season. Don't miss this extraordinary evening from one of Broadway's finest.
Levi Kreis is a Tony Award winning actor known for originating the role of Jerry Lee Lewis in Broadway's Million Dollar Quartet. The role won Levi the Tony Award for Best Featured Actor, an Outer Critics Circle Award and a Drama League Nomination. Other highlights include Hermes in Hadestown First National Tour, the Tony nominated revival of Violet and Roger in the Broadway National Tour of Rent.
Levi began his acting career in film with the role of Fenton, Adam's brother (Matthew McConaughey) in Bill Paxton's directorial debut Frailty. He has recently returned to screen with roles in A Very Sordid Wedding winning Best Comedy, Best Screenplay and Best Ensemble at the FilmOut Festival. He followed that up with a modern western called The Divide which appeared in fifteen different film festivals garnering several awards and wide recognition.
Musically, Levi's gospel-rich vocals and church-inspired piano style have defined some of his best known songs. An East Tennessee native, Levi spent his youth mimicking the piano style of southern gospel music and idolizing men like Ray Charles who brought that sound to the mainstream. Levi's life, relationships and self-discoveries as a gay man have been chronicled through his albums. Each one reveals a new side to this singer/songwriter, taking you through a myriad of genres – piano pop, gospel, country, r&b and jazz. Levi's music has been featured in film and television shows including The Vampire Diaries, Sons of Anarchy, and So You Think You Can Dance. Ten albums have afforded Kreis impressive accolades – top ten positions on various charts, #1 music videos, and ongoing national tours. He has performed on The Late Late Show with James Corden, Late Night with Jimmy Fallon, Late Night with David Letterman, The View, Macy's Thanksgiving Day Parade, NBC's The Apprentice, and featured in gay media internationally including multiple features in Out (Out100), Advocate, Genre, Instinct, DNA, Attitude, and a #1 video for 21 weeks on Logo.
"The charisma of Kreis's performance makes each song wholly accessible, allowing listeners to bask in the power and majesty of each beloved lyric and melody." -BroadwayWorld.com
"Speaking of the Great White way, you haven't heard Sweeney Todd's Not While I'm Around, Pippin's Corner Of The Sky or Aladdin's Friend Like Me till you've heard them sung Kreis – style with piano arrangements so rich, you won't miss a full orchestra, not even for a second." -StageSceneLA.com
"Effortless comedic timing and dazzling piano chops!"-Huffington Post
 "A star ready to pop, Kreis tears up the stage!" -The Chicago Tribune
 "Brilliant" -New York Magazine
"Levi Kreis is a rock star with an electric sound and vibe! He channels sex appeal and displays vocal abilities that just astonish." -Broadway World
 "To watch Levi play the piano is like watching somebody speaking in tongues." -Lou Brutus, SiriusXM Radio.
Food & Bar: Our full food and drink menu will be available before and during the show.
Date: Wednesday, December 20