Lydia Brownfield's Albatross City with Kelly Vaughn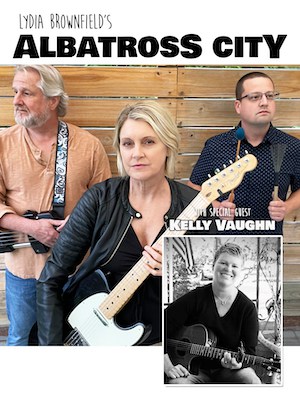 Lydia Brownfield
Singer/songwriter Lydia Brownfield's latest project, Albatross City, is at its core a trio of electric guitar, bass and drums, with the occasional guest. With driving beats and room to breathe, this project feels different from her previous endeavors. Albatross City has a stripped down simplicity to it that feels spacious and airy. Still with catchy hooks and memorable choruses –that Lydia is known for– the tone is a little more loose and upbeat than the Lydia Brownfield solo project. A little bluesy. Almost bluegrass. Lydia calls their sound swampy. Her electric guitar sings with confidence and her powerful voice reminds us she's been doing this a while. Jeff Dalrymple, Lydia's trusted wingman, powers the bass with a heavier hand than what we're used to hearing from him on the acoustic guitar. And the addition of Ty Landrum on drums is significant. His passion and skill takes this already mighty duo up a giant leap with not only a solid foundation, but also interesting rhythmic choices.
Vocal harmonies? Check! Wide ranging dynamics? Check! Great songs? Check! Listen for Albatross City on the Columbus airwaves, and look for performances debuting in September 2023.
Kelly Vaughn
With a unique blend of folk and indie rock, Kelly Vaughn's songs tell a story. Soulful and transparent and written from the heart, her songs speak to the struggle, hopes, and joy that we all experience. Kelly has performed at The Rock and Roll Hall of Fame and has opened for national touring artists such as two time Grammy nominated Jennifer Knapp.  Interviewed twice to date on Good Day Columbus, she was recently featured on "Slice of Life" with Adam Slinger (WSYX 6).  She has also been featured in the Lancaster Eagle Gazette, and kicked off the Brickyard Stage Final Friday Concert Series in Mansfield five years in a row.  Her song "Ordinary Girl", from her debut EP (2014) was featured on local radio station CD 102.5 and she was highlighted on WGRN 94.1's "The Music Room" with Rick Barr.
Food & Bar: Our full food and drink menu will be available before and during the show.
Date: Thursday, September 21