Popgun Halloween: The Battle of Heaven and Hell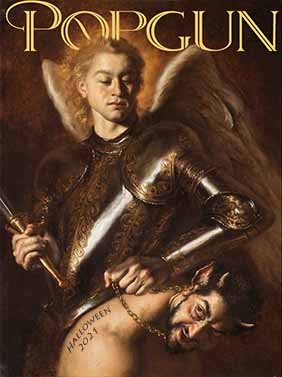 Until further notice, all shows at Natalie's will require proof of vaccination (card or photo), along with photo ID, OR a valid negative Covid test 48 hours prior to entry. 
The best Halloween Party in town returns to Natalie's Grandview for Popgun Presents: Heaven vs Hell! This special two-night event starring Popgun will feature sets and decorations created by the talented Lesley Raye. The Heaven vs Hell theme opens up numerous costume ideas, so get your reservations in early, and this year there will be plenty of space to dance in front of the stage!
Popgun is a "super-group" consisting of some of the finest musicians in the Central Ohio area. They present their interpretations of a wide variety of tunes from David Bowie, Paul McCartney, Steely Dan, and much more. Members of the group also perform with other outstanding bands from the area, including the Floorwalkers, HooDoo Soul Band, and FLIPPO.
Band members are Jonathan Elliott (vocals), Joey Hebdo (vocals), Dennis Hodges (guitar), Tony McClung (drums), Jeff Ciampa (bass), Lucas Holmes (keyboards), and Kevin O'Neill (saxophone).
For those not attending in person, this concert can be viewed as a live stream from Natalie's Facebook page or YouTube channel starting at 8 pm. Donations are appreciated, and payments can be made via this link on Natalie's website (Venmo/PayPal/Direct): https://nataliesgrandview.com/donate/. All contributions help support the musicians, production crew, and Natalie's. This special live stream is sponsored by the family of Dave Ward to celebrate his 60th Birthday!
Date: Friday, October 29, 2021