Rainbow UA Drag Show Fundraiser
This Event is 18+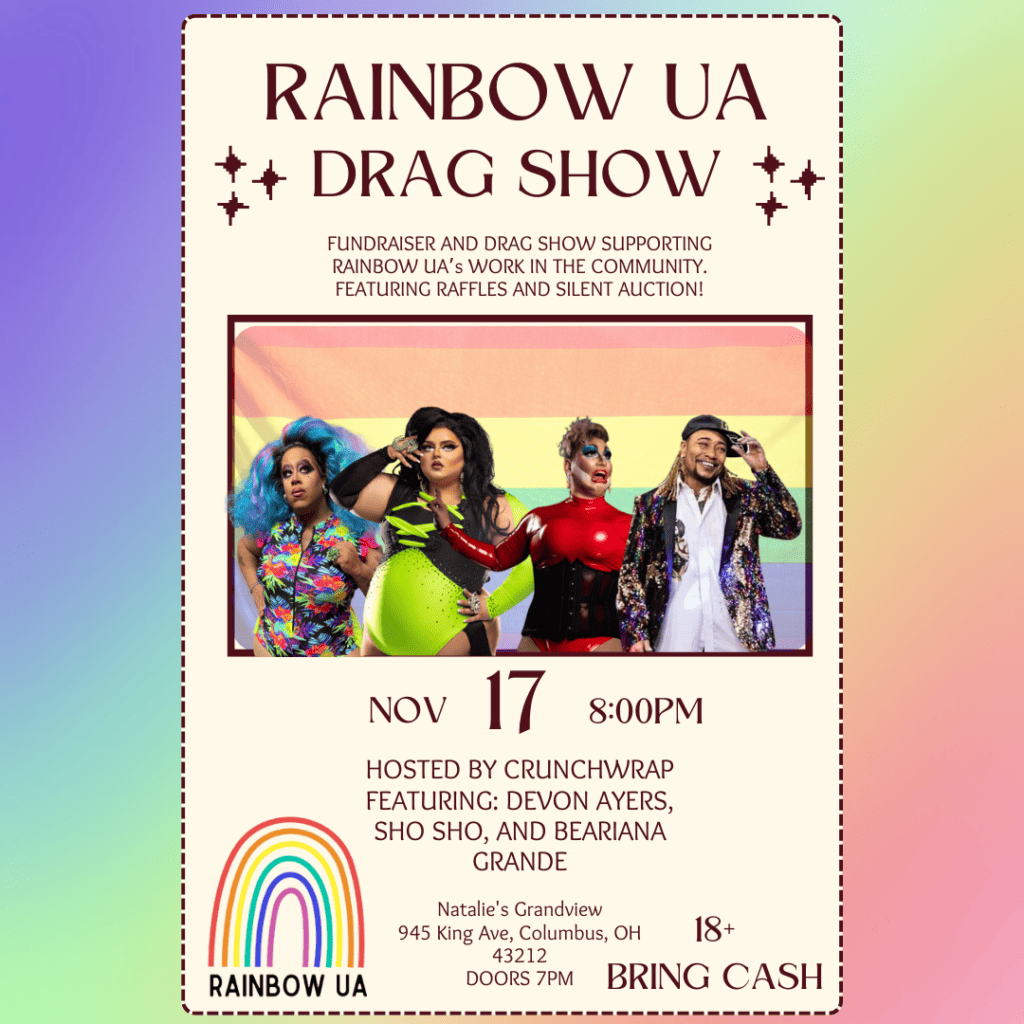 Step into the dazzling world of drag for a night to remember! Our Queens and Kings are ready to slay with charisma and talent that will leave you spellbound. Plus get in on the action with raffles and a silent auction. You may sashay away with a prize as fierce as the performers themselves! Bid on fabulous items knowing that your generosity benefits the incredible Rainbow UA, making the world a more colorful and inclusive place. You don't want to miss this fantastic night of glitter, glamour, and giving back!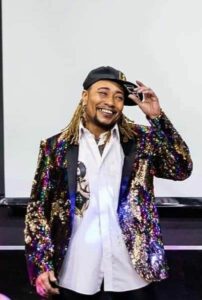 DEVON AYERS – He/Him/His/King: "Columbus's Ohio's very own Gender Bred Man, The Gentleman Ayers himself, Devon Ayers!" – Principal performer, Co-Manager and Bookings Director for Crimson Lace Cabaret. Founder of Gentleman Ayers Entertainment. Mr Ohio Burlesque, Mr. Gay Ohio All-Star 2018, Mr. Ohio Gay Pride King 2017, Mr. Great Lakes Gay Pride King 2016 & 2017 to the mfing present, Mr. Wall Street Forever.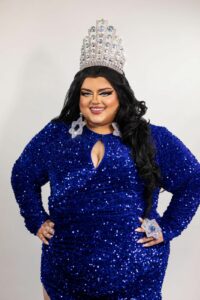 SHOSHO – They/Them: By the power of MAZEL TOV, SHABBAT SHALOM, HAPPY HANUKKAH… And a whole lotta brisket! This performer is your reigning Miss Dayton All Star Princess, winner of class 1 of the drag master, and OHIO'S premiere Jewish warrior drag queen. They won't make you holla, but they'll make you CHALLAH! They put the JEW in juicy. It's SHO SHO ZAHAV!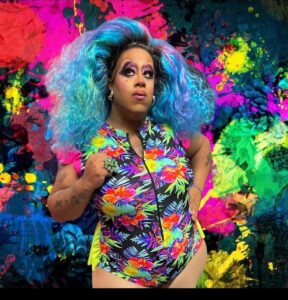 BEARIANA GRANDE – He/They: This idiot is coming to you on her way to Miss Gay Ohio America, is a fun, and ditzy Bimbo who wants nothing more than to have fun with the crowd and maybe a drink or two. A cross between old school RnB glamor and pure stupidity, you're truly in for the most awkward ride of your life.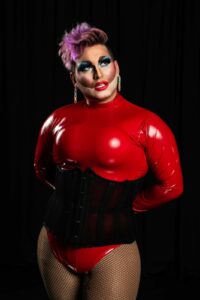 CRUNCHWRAP – She/They: Introducing Crunchwrap, a dynamic drag persona taking the world by storm. From producing shows to competing in national pageants, Crunchwrap's talent knows no bounds (besides props, they have a history of those breaking, and wigs! A few of those have flown off… oh well, and.you know what she has knows some bounds). Known for their originality and comedic prowess, Crunchwrap won "The Tweeka Weed Award for Originality" for their performances at the National Miss Comedy Queen in 2023. In Columbus, Crunchwrap can be found lighting up the local bar scene or organizing unique drag shows in unconventional venues. These shows serve a dual purpose, raising funds for local LGBTQIA+ organizations while bringing queer art to new audiences.
Food & Bar: Our full food and drink menu will be available before and during the show.
Date: Friday, November 17