She Burns Bright: A Night of Punk AF Rock, Art & Poetry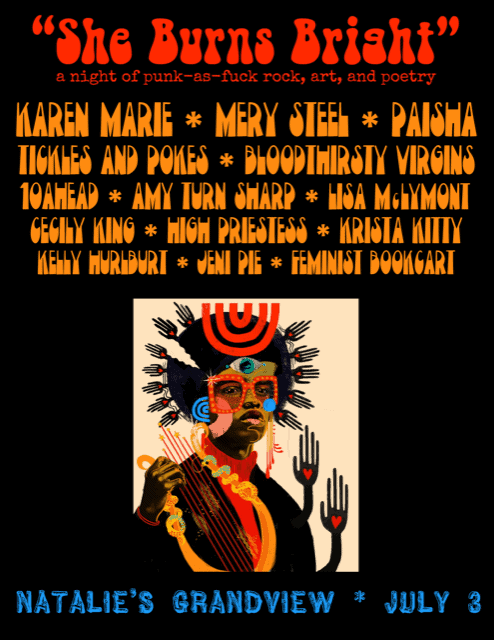 Natalie's is excited to host She Burns Bright, a festival featuring female-driven music, art, poetry, dance, comedy, burlesque, and activism. What began as a one off show has now become a movement of female expression and fierce Sisterhood!
Due to COVID-19, tables will be sold instead of individual seats, and guests are required to wear masks when not seated.
Featured musicians, poets, dancers, activists, and visual artists will include Karen Marie, Amy Turn Sharp, Mery Steel, Paisha Thomas, Tickles and Pokes, 10AHEAD, Cecily King, Kelly Hurlburt, Krista Kitty, Jeni Pie, Lisa McLymont, High Priestess, Bloodthirsty Virgins, and Feminist Bookcart!
Poster art by Orpheus – Victoria Topping
Date: Friday, July 3, 2020