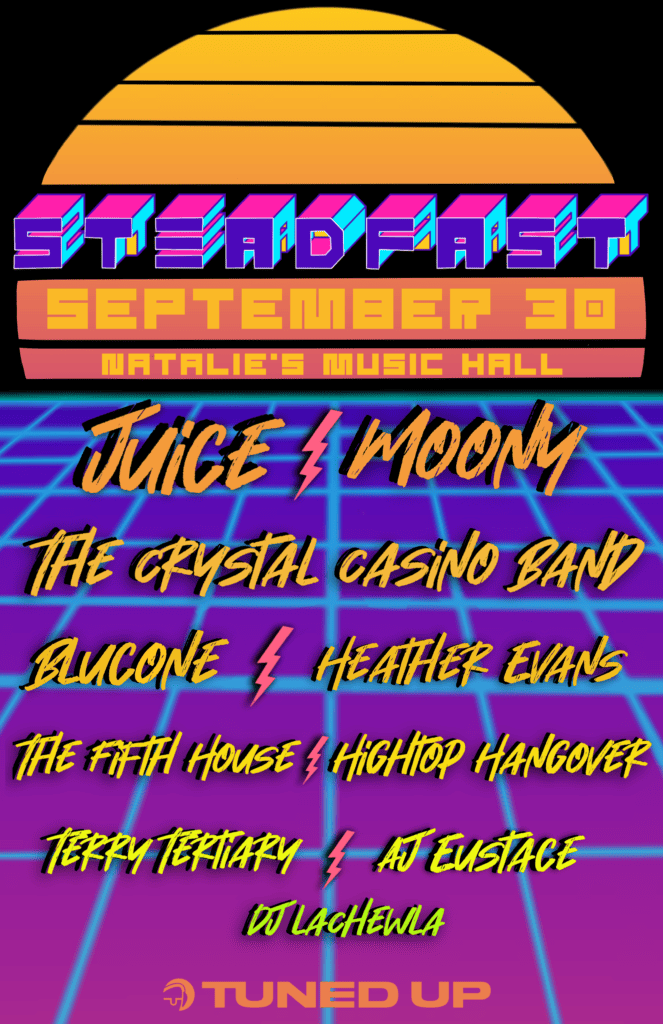 TUNED UP presents the 6th annual Steadfast Music Festival event! 10 acts showcasing in an event celebrating all things Tuned Up and giving back to you, the Steadfast Fans of the Columbus music scene. Music by 10 artists on two stages, one night only!
This festival will take place at Natalie's Grandview on both sides of the building including two stages – Charlie's Stageand Music Hall Stage, wood-fired pizzas served all night, and a full bar serving plenty of your favorite local beers and spirits!
Tickets get you into both stage areas – Charlie's Stage and our Music Hall Stage. Tickets are required to enter the Music Hall Stage and admission to the Charlie's Stage area is free, but tips for the bands are strongly encouraged.
Music Hall Stage:
5:40-6:10p – Hightop Hangover
6:25-6:55p – The Fifth House
7:10-7:40p – Moony
7:55-8:30p – blucone
8:45-9:25p – The Crystal Casino Band
9:40-11p – JUICE
This show is all Standing General Admission. A very limited number of seats are available throughout the Music Hall on a first come, first served basis.
FOOD & BAR: A limited food menu of pizza and fries as well as our full bar will be available before and during the show.
Charlie's Stage:
6:20-6:50p – AJ Eustace
7:10-7:40p – Heather Evans
8-8:45p – Terry Tertiary
9-10p – DJ laChewla
DINNER RESERVATIONS:
Click the Resy button below to make a dinner reservation on our Kitchen/Charlie's Stage area! Please note this does NOT include your entry into our Music Hall. Please purchase tickets to the festival by clicking BUY TICKETS.
PARKING:
Customers can park behind our restaurant anytime, and after 5 pm on the parking lot adjacent to us on the west (formerly Certified Oil, now Ketchum & Walton Co), on the paved parking lot east of us across from the Sweat Box, and across the street (North) at the Graphic Awards Trophy Shop and the Montessori Children's House. There is also free street parking on Hess Street and Gerrard Avenue.
Date: Saturday, September 30