The Cordial Sins 'Small Talk' Album Release featuring North by North & Super Sport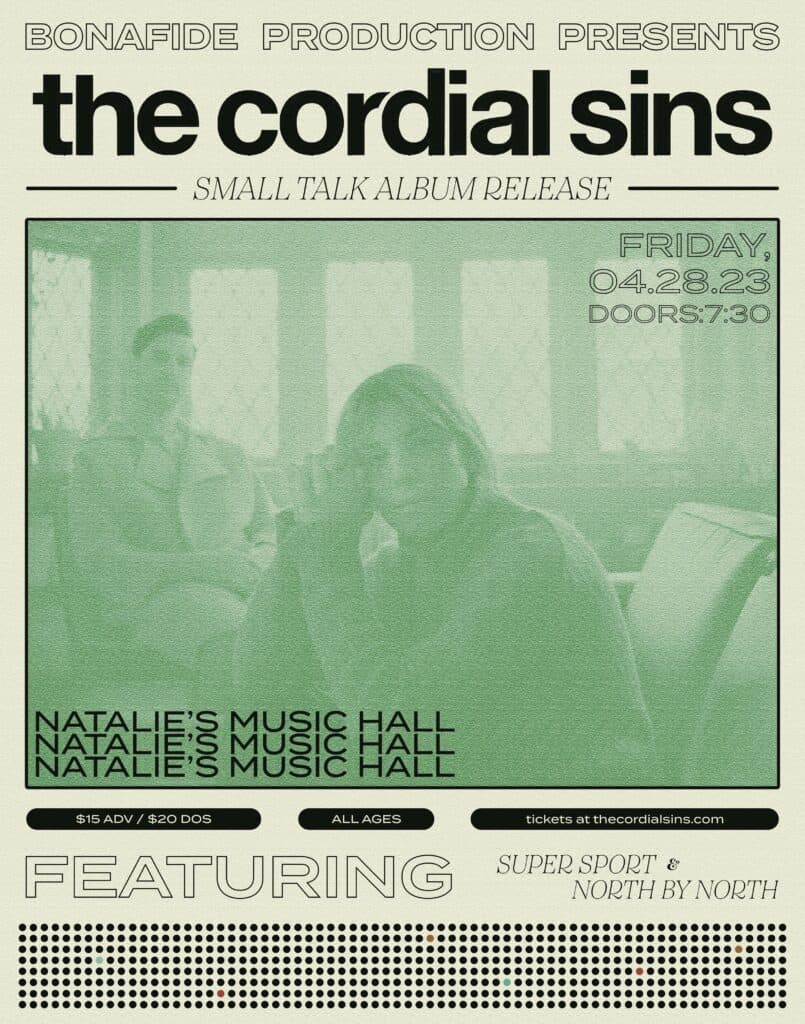 The Cordial Sins celebrate the release of their debut album, Small Talk, with a night of music and partying featuring fellow Columbus rockers Super Sport and Chicago duo North by North.
The Cordial Sins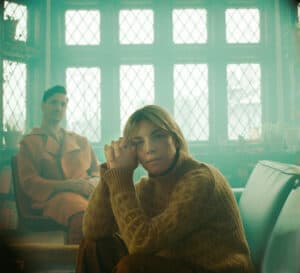 Website | Spotify | Instagram | Facebook
The Cordial Sins are known for their delectable meld of shoegaze, harmonious indie rock and a snarling hint of grunge, having shared their electrifying performance on stages with the likes of The Breeders, Foals, Wolf Alice and more.
The band, led by co-founders Liz Fisher (vocals, guitar, violin, synthesizer) and Corey Dickerson (guitar, vocals), gained notable momentum in 2019 with performances at Nelsonville Music Festival
Audiotree, and on support tours, along with their first label release, the In Memory EP (Diversion Records). It was during this time that The Sins channeled moments on the road–of arresting inspiration, dissembling emotion, and scarce stillness–to make a grittily fizzing meld of rasping indie rock and melty shoegaze, almost combative in its strength.
The Cordial Sins discovered the aforementioned stillness, however imposed, with the onset of COVID-19 and the shutdown that ensued.
When most of their creative landscape came to a screeching halt, the band focused their angst the only way they knew how: through writing. With what seemed like endless terrain to record, revise, and hone their sound, it's no wonder that the culmination of their efforts–a nine-song debut LP entitled Small Talk–captures the tumbling, raw emotion of the last two years with such sincerity.
North by North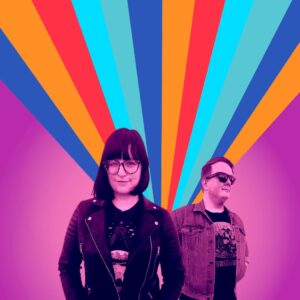 Formed in 2012, North by North is the sweat-fueled rock & roll dream of two childhood friends from the south side of Chicago. Their music was forged through years of teen angst, twenty-something alienation and a profound belief that rock music can be genuinely clever and inventive. It's a sound glued together by melodic hooks, soaring vocals, crushing guitar, bombastic drums and the kind of untethered energy that has won crowds over hundreds of shows and dozens of festivals across three countries.
To call Nate Girard (guitar, vocals) and Kendra Blank (drums) veterans of the road would be a massive understatement. They have toured full-time since 2016 and have played over 650 shows throughout the US, Canada and UK.
Super Sport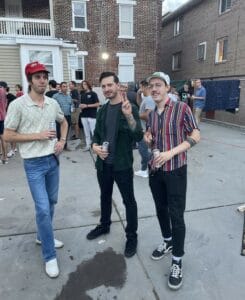 Super Sport plays instrumental tracks under 3 minutes long. They've played tens of stages in central Ohio since forming in 2021.
Food & Bar: Our full food and drink menu will be available before and during the show. If you have Standing General Admission tickets, a limited menu of pizza and fries will be available to order from the bar. If you would like to eat before the show we encourage you to make a dinner reservation by clicking the Resy button below.
Book your Natalie's Grandview reservation on Resy