The HER2-Revue: A Burlesque Sneak Peek!
Tips Strongly Encouraged!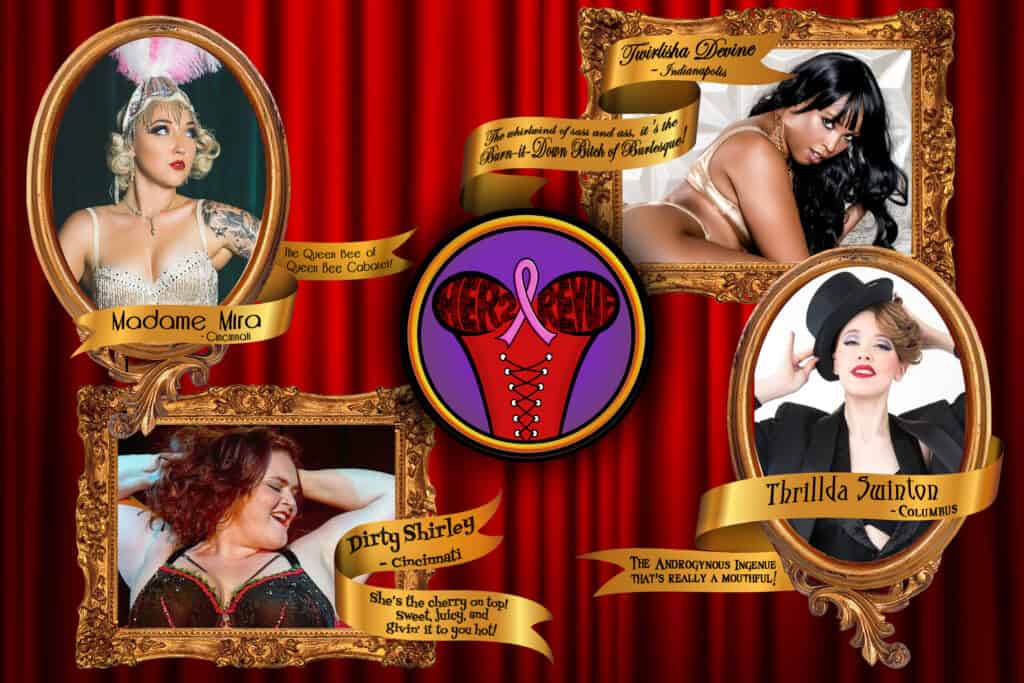 Top Shelf Productions presents the HER2-Revue, a celebration of burlesque, body positivity/confidence, self-love, and sexual wellness.
Join us during Breast Cancer Awareness Month for a sneak peek at our "Shimmy and Shake for Survivors" benefit show and learn more about survivorship support services including tattooing, microblading, boudoir photography, burlesque workshops, and more!
Our Featured Performers:
– Madame Mira (Cincinnati)
– Twirlisha Devine (Indianapolis)
– Dirty Shirley (Cincinnati)
– and your host Thrillda Swinton (Columbus)
Featured Businesses:
– Queen Bee Cabaret (Cincinnati)
– Living Story Tattoo (Dublin)
– Glitter Me Beauty Bar (Pickerington)
– and more!
Food & Bar: Our full food and drink menu will be available before and during the show. If you have Standing General Admission tickets, a limited menu of pizza and fries will be available to order from the bar. If you would like to eat before the show, we encourage you to make a dinner reservation on Resy for our kitchen side of the venue.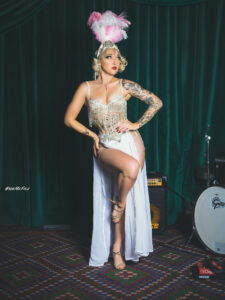 Madame Mira's passion for burlesque blossomed during her travels to New York City, as it incorporated her backgrounds in fashion design, theater, and jazz. Upon having her travels back to the Big Apple delayed due to COVID-19, she formed Queen Bee Cabaret as a safe space and outlet for artists to share their talents and have a New York feel in Cincinnati, OH. Outside of Queen Bee Cabaret, Mira performs with several other productions, teaches burlesque and lyra classes, and collaborates with local businesses and events. The Madame specializes in dazzling crowds with a carefully crafted, classic style of burlesque. Her combination of costume expertise, consistent nod to history, and classic dance and theatre background brings a captivating experience to her audience. She has shimmied across stages in NYC, all around Ohio, Indianapolis, Memphis, and even as far as Dublin and Cork, Ireland.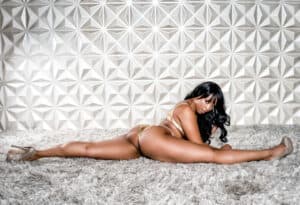 Since making her debut in San Diego in 2017, Twirlisha Devine has performed, featured, headlined, and competed all over the U.S. and internationally leaving a trail of glitter and fireworks wherever she goes. She was the 2019 Fresh Face Feature for the Vancouver International Burlesque Festival, the 2019 Master of Funk for What the Funk an All POC Burlesque Festival and has had the honor of performing in the Burlesque Hall of Fame's VHoF showcases in 2020 and 2021. Recently, she has headlined Boundless Burlesque in Tucson, AZ, the Disabilitease Festival, and Spellbound Burlesque in Phoenix, AZ, as well as performing in Jeezy's Juke Joint in Chicago, the Juneteenth Jubilee in Minneapolis, and Crying at the Disco in Indianapolis to name a select few. This year, she proudly launched Twirlisha Devine Productions and proudly debuted her Legends & Icons All Black Burlesque weekender starring the legendary Shawna the Black Venus in August. Twirlisha is just warming up and plans to continue throwing her body around on stage for many moons to come. Stay tuned burly lovers … the Burn It Down Bitch of Burlesque is on the rise!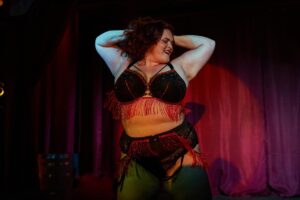 Dirty Shirley got her start with Queen Bee Cabaret's Blooming Burlesque Workshop and hasn't stopped since! She's performed with Cincinnati-based troupes Passion Productions, Smoke and Queers, and Queen Bee Cabaret. She brings a touch of vintage glam and a whole lot of attitude to the stage. She's the cherry on top! Sweet, juicy, and givin' it to you hot!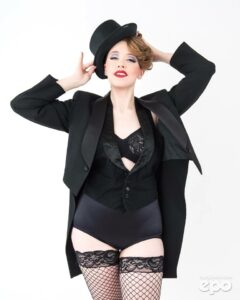 Thrillda Swinton brings a playful, impish spirit to the stage, whether she's bumping and grinding, giving you great face, or charming the audience as an emcee. She is an award-winning burlesque performer (Master of Tassels – Burlypicks Ohio 2018) and has brought her charm and tease to stages across Columbus and the Midwest since 2017. She is the producer of Triple Threat: A Musical Theater Burly-Q Revue, a reimagining of musical theater, both classic and contemporary, as well as the SpeakTeasy show series, featuring craft cocktails paired to suit each performer in a speakeasy environment. See what she's mixing up next at thrilldaswinton.com!
Date: Thursday, October 5