The PEER Center Sweet 16 Fundraiser with Priscilla Woodson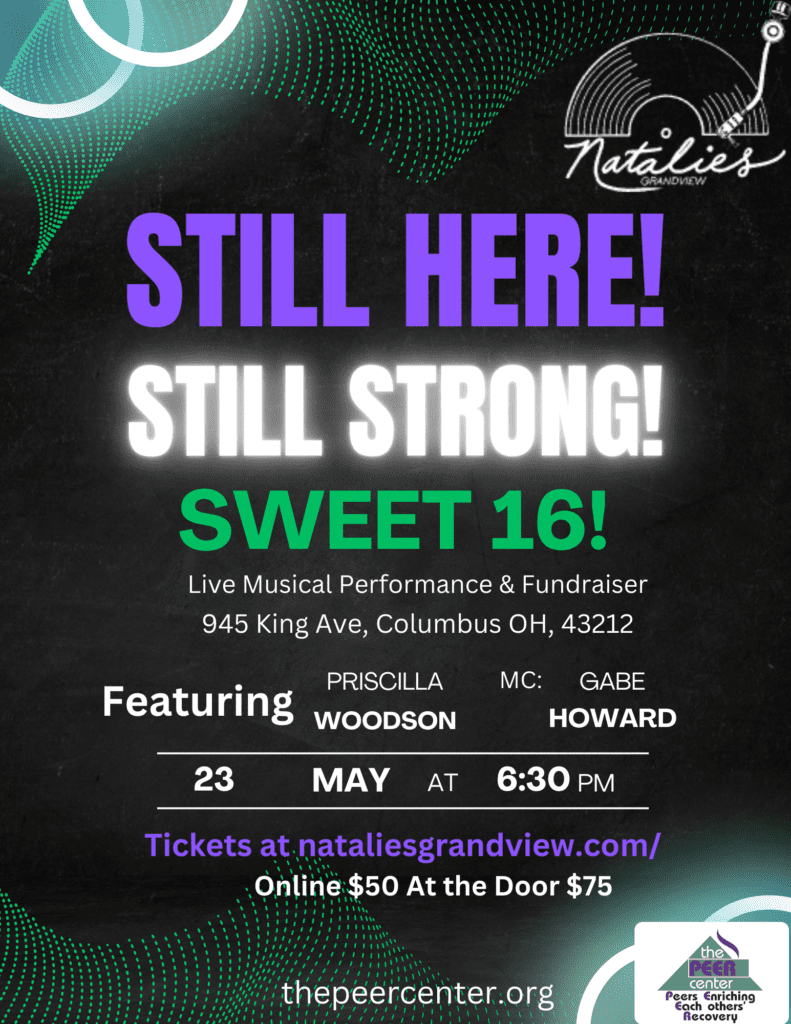 May is Mental Health Awareness Month and Natalie's Grandview is thrilled to host The PEER Center's Sweet 16 Fundraiser and Concert. Learn about the PEER Center's important ongoing work to educate and support those struggling with mental health and enjoy a special performance by Priscilla Woodson. Priscilla is an international performing artist  singer-songwriter with 7 albums, mental health and wellness advocate, life coach, life skills professional developer, Pastor, and three times author.
The PEER (Peer's Enriching Each others' Recovery) Center began operations in January 2007 as a consumer-operated, drop-in program for individuals living with mental illness and/or alcohol or other drug addiction, located within a traditional mental health services agency. From the beginning, it was intended to serve as a place where associates (members) could learn about their illness or addiction, talk with others about their struggles and recovery, and spend time with others who have "walked the walk" to improve their lives. The PEER Center continues that focus, along with an effort to educate and support family members of individuals living with mental illness or drug / alcohol addiction. All staff at The PEER Center has lived experience of mental illness, drug or alcohol addiction, or trauma. In January 2010, The PEER Center became an independent, non-profit agency, supported by its own Board of Directors, the majority of whom are also persons with lived experience of mental illness, addiction, or trauma. On May 1, 2011, The PEER Center expanded operations to a second location. Our current primary source of funding is through a grant from The Alcohol Drug and Mental Health Board of Franklin County.
We will not be open during normal business hours for this show – ticket holders will be able to check in and the venue will open at the door time listed on this event page. 
Food & Bar: Our full bar and a limited menu of pizza, salads, charcuterie, and desserts will be available before and during the show.