Al Smyth & Jeff Passifiume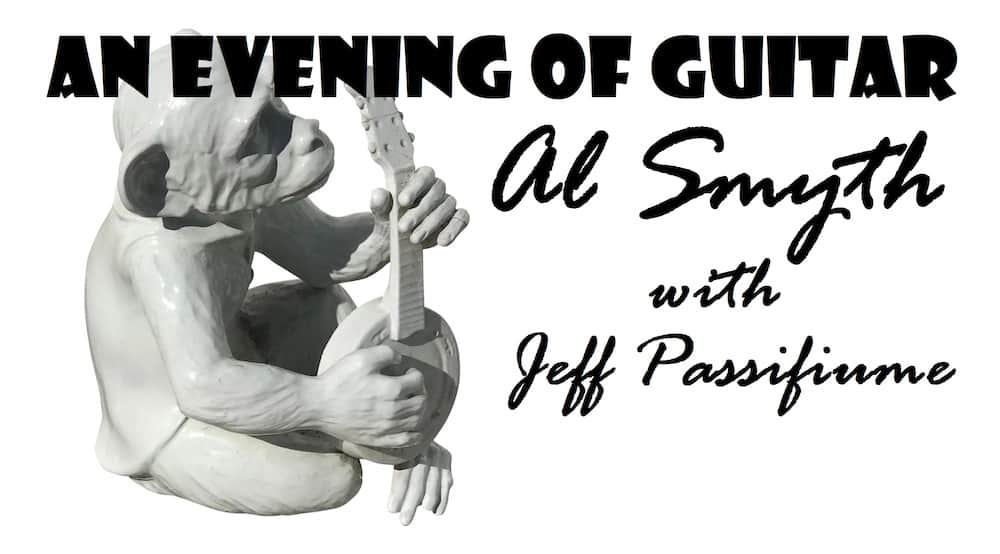 Al Smyth is a skilled Columbus guitarist whose repertoire focuses on original guitar-oriented songs and arrangements. Working in various configurations with his band Al Smyth's FBnCC (that's "Free Beer and Chicken Coalition" – which leads people to say to Al, "You're the chicken guy!"), Al has developed styles that range from blues to jazz to create exciting arrangements of such luminaries as Les Paul, Chet Atkins and Frank Zappa.
Among musicians, there are few in Columbus who do not know, have played with or have heard of Jeff Passifiume.  Jeff is one of those cats who walks the walk and can tell stories of being a working touring musician and of connections and people he has known/played with over the years – not to mention his vast collection of vintage guitars and amplifiers. His tribute shows to Prince, Tom Petty, and, of course — with his 12-piece all-star band Sons of Gladys — Elvis (selling out at Natalie's) are renowned.
This rare event with Jeff as accompanist will showcase Al's accomplished guitar playing through song selections that represent his wide swath of musical interests and styles. As Charlie Jackson once said, "If you don't like one song – just wait for  the next one, it will be different" (well, paraphrasing…. but close enough for rock n roll… or jazz… or bluegrass… or….)
Food & Bar: Our full food and drink menu will be available before and during the show.