Ally Venable with Special Guest The Sean Carney Band – SOLD OUT!
Presented by Crazy Mama's Concerts, WCBE, and Blues For a Cure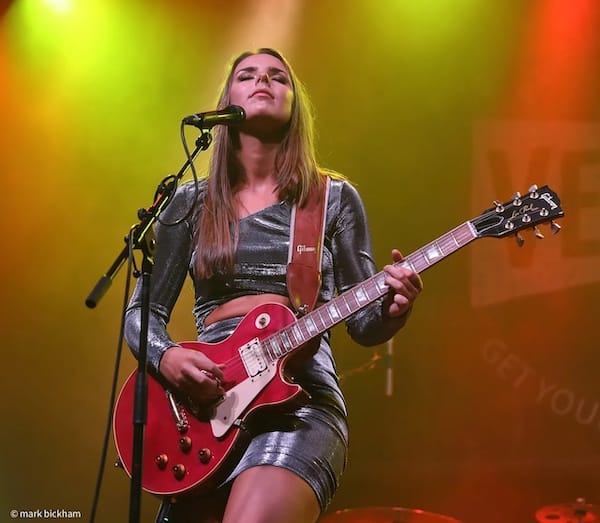 Texas blues/rock guitarist, vocalist, and songwriter Ally Venable has made her fiery presence known around the world since the release of her debut album at 16. Now, with her fifth solo effort Real Gone! dropping on Ruf Records March 10th, 2023, Venable has come of age.
At 23, Venable is already an important artist in the roots music world. Her name has grown in stature with each new album and high-energy gig. She's an absolutely ripping guitar player with style and tone for days, a commanding singer, and a songwriter with the power to make blues music that speaks to contemporary fans. The new record, produced by Grammy winner Tom Hambridge (Buddy Guy, Susan Tedeschi), features guest appearances by Joe Bonamassa and living legend Buddy Guy.
Venable is that rare musician who can take her old-school influences like Guy and Stevie Ray Vaughan and create music that brings their spirits to today's listeners where they live. Together with Isaac Pulido (drums) EJ Bedford (bass), she gives audiences an entertaining show packed with musical muscle and relatable songs about living, growing, and evolving. When asked where her songs emerge from, Ally replied "I try to write about what goes on in my life, or try to write about something I know others can relate to. We all go through things and it's okay to have feelings about something going on in your life."
The first single from Real Gone! is "Texas Louisiana," which is a crackling duet with the one-and-only Buddy Guy. Ally and Buddy are an absolute dream team together, intertwining their guitars and voices into one without either losing any identity or impact. The title track "Real Gone" is a straight-up, body-moving rocker that will also be a single. Venable shouts down the microphone like a star while her guitar snarls and sings.
In 2022, Guitar World Magazine named Ally one of the Top 15 'Young Guns' Making the Gibson Les Paul Cool Again and she also received the Road Warrior Award from the Independent Blues Music Awards. She performed as a featured artist on the Experience Hendrix Show in Austin, TX and appeared alongside Kenny Wayne Shepherd, Zack Wilde, Eric Johnson, Dweezil Zappa, and other luminaries.
With 2019's Texas Honey and 2021's Heart of Fire, Venable found herself topping the Billboard charts. Early releases No Glass Shoes (2016) and Puppet Show (2018) created her fanbase, charted on radio, and won several East Texas Music Awards. Venable's acclaimed performances on Ruf Records' European Blues Caravan tour brought her international recognition. She has toured the U.S. with Buddy Guy and Kenny Wayne Shepherd and Canada with Colin James.
This year, Ally will be opening for Buddy Guy on his farewell tour, rocking Europe again on the Blues Caravan Tour, and doing her own headline shows domestically and abroad. She's had a rapid rise to fame but gives off the vibe of someone who loves her life and is ok with it all.
Sean Carney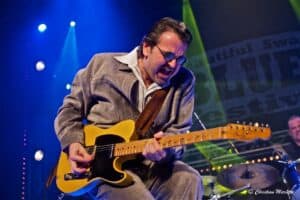 Internationally acclaimed blues guitarist and vocalist Sean Carney along with his band open the show.
Sponsored by Blues For a Cure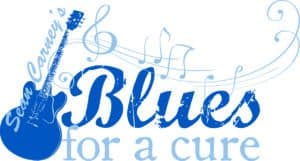 Food & Bar: Our full food and drink menu will be available before and during the show.