Appalachian Swing Album Showcase Concert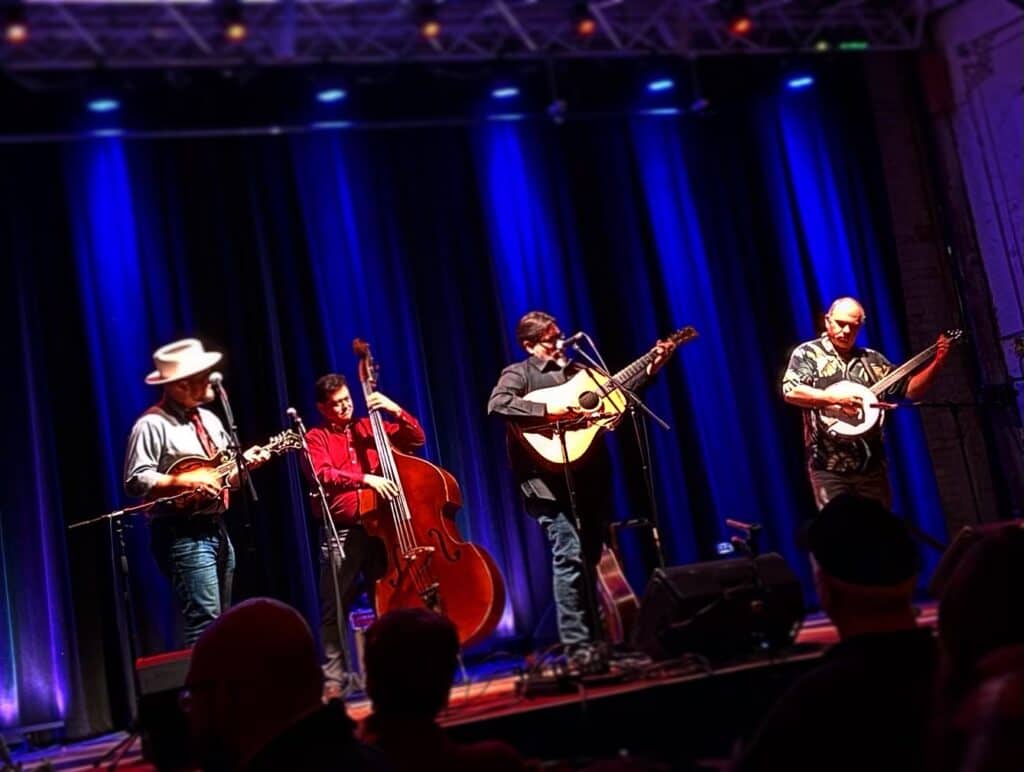 Join Appalachian Swing for a showcase performance of Remembering The Past, their debut album featuring the music of The Kentucky Colonels, Clarence and Roland White. Remembering the Past also features LeRoy "Mack" McNees on dobro. LeRoy was the original dobro player in the Kentucky Colonels and wrote several of their signature songs like "If You're Ever Going To Love Me" and "I Might Take You Back Again". For this showcase at Natalie's the band will perform the entire album plus some other numbers from their Kentucky Colonels inspired catalog.
Appalachian Swing is:
Adam Schlenker: Guitar and Vocal
Hayes Griffin: Mandolin and Vocal
Todd Sams: Banjo
George Welling: Bass and Vocal
Remembering the Past liner notes
Appalachian Swing was formed in 2021, the result of a show performed by Adam Schlenker, Hayes Griffith, Todd Sams and George Welling. Adam and Hayes were hosting a monthly series of Americana concerts, each with a different theme and cast of musicians, at a club in Columbus. One such show featured the music of the Kentucky Colonels, a short-lived but highly influential southern California bluegrass band led by brothers Roland and Clarence White.
That concert was so much fun and so musically rewarding that the guys decided to form a band and carry things forward. Taking its name from the Kentucky Colonels' landmark second album, Appalachian Swing took a somewhat unusual approach to repertoire by deciding to focus almost exclusively on the music of the Colonels, as well as various auxiliary projects by the White brothers.
Adam takes pains to point out that his is not a "tribute band" that tries to copy the Colonels' recordings note for note, lick for lick, in an attempt to sound exactly like the earlier band. "We are heavily influenced by the Colonels," he says. "Their sound is a huge part of our musical DNA, especially mine and Todd's. But we're not trying to just copy their music. There's more to it than that.
"They had a certain ethos, an overall kind of feel, that we find very inspiring. It's about making decisions—harmonically and rhythmically and tastefully—that we think they might have made or that we heard them make. It's about understanding the ingredients that went into the Kentucky Colonels initially, and then us working with those ingredients to get our own outcome. We're inspired by the sound that they made and their whole approach to bluegrass."
On Remembering the Past, the band's impressive debut album, Adam sings the lead vocal on eight of the cuts, with George taking the lead on "I Might Take You Back Again" and "Won't You Call Me Darling." Hayes sings the tenor part on all but a couple of songs. Adam is a distinctive vocal stylist whose voice calls to mind both Clarence and Roland White, at times sounding like an uncanny combination of the two. Appalachian Swing has an instrumental front line that rivals any band in the country.
Adam, Hayes and Todd are dazzling, inventive instrumentalists, heard to best advantage on this album's three tunes, "Farewell Blues," "Alabama Jubilee" and "Powder Creek." Adam's playing is especially brilliant on "Powder Creek" (an obscure tune written by Roland and Clarence White, but never recorded by them) on which he artfully showcases his Clarence White influences without once quoting or copying him.
Legendary Dobro player LeRoy "Mack" McNees, a charter member of the Kentucky Colonels—he actually joined the band when it was still called the Country Boys—makes a very special guest appearance on Remembering the Past. He adds his bluesy, energetic touch to five cuts: "I Am a Pilgrim," "Memphis Special," "I Might Take You Back Again," "Won't You Call Me Darling" and "If You're Ever Gonna Love Me," the last four of which he wrote or co-wrote. His presence on the album is both a very cool link to the past and a validation of what Appalachian Swing is doing to bring this music into the twenty-first century.
"If we can introduce a tune like 'Powder Creek,'" Adam says, "and get someone to go check out the original version of the tune on Roland's album I Wasn't Born to Rock and Roll, then that's perfect. We did something, and it was worth doing. It's a way of honoring what we think is important."
In the final analysis, inspiration is only as good as what one does with it. The Kentucky Colonels may have lit the spark, but Appalachian Swing makes the music. As the band's debut recording, Remembering the Past is an outstanding beginning, but it's more than that. It's also a continuation of a tradition they particularly admire, both a connection to the past and a guide for the future.
—Jon Hartley Fox
Food & Bar: Our full food and drink menu will be available before and during the show.
Date: Wednesday, August 2