Bruce Dalzell Songwriting Circle with Rachel Mousie and Jack Wright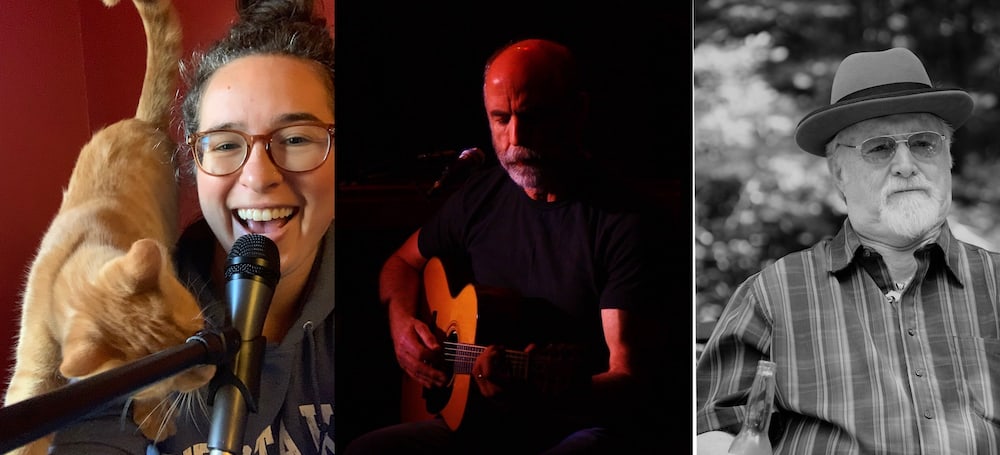 Athens songwriter Bruce Dalzell hosts a very special songwriters circle with friends Rachel Mousie and Jack Wright on Charlie's Stage!
About the songwriters:
Bruce Dalzell, the patriarch of the Athens music scene, is a craftsman constructing delicate and thoughtful folk tunes that cut through all the pretense of the modern music industry to hit listeners at their core. Although his catalog of tunes is not without dark or mournful underpinnings, his songs always glow out of that dark night, with soft but steady warmth. Among his many credits are appearances on "Mountain Stage with Larry Groce.
Rachel Mousie's songs feature sparse but meaningful piano parts, looped vocal harmonies, and percussive rhythms (snaps, claps, shaker) behind melodic vocal lines. Music that makes you feel something. In her alternate life, during daytime hours, Rachel is a social worker and child mental health therapist. She often pulls from personal and professional experiences for lyrical inspiration to address issues that mean something to her.
For the better part of 40 years, Jack Wright has explored and celebrated Appalachian life through music, theater, film, writing and activism. Jack was founder of June Appal Recordings and a performer in Roadside Theater and the Payroll Boys band. In recent years he performs as a solo artist.
Food & Bar: Our full food and drink menu will be available before and during the show.