David Grier & Adam Schlenker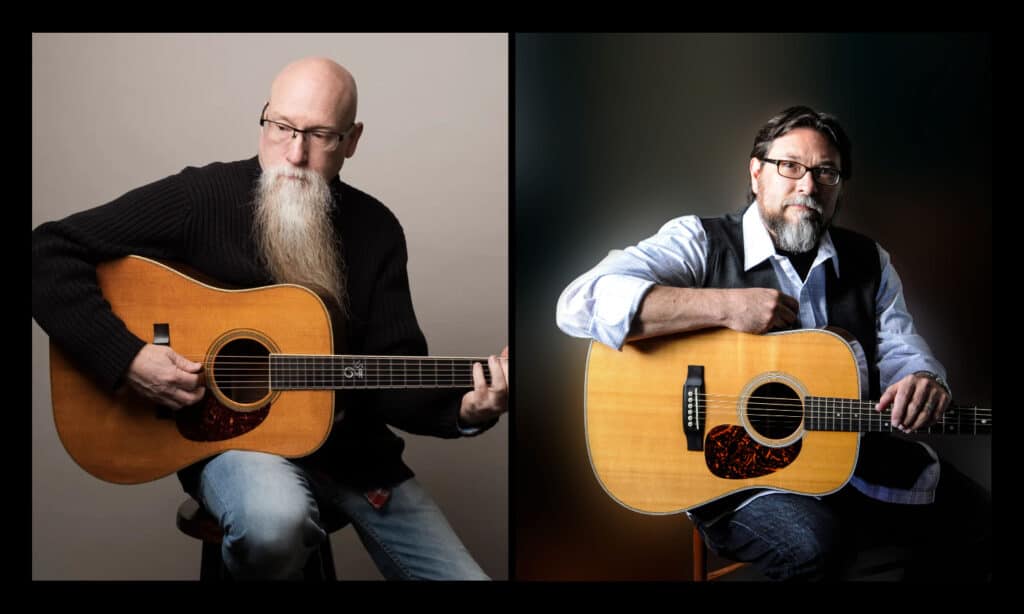 Join us on Charlie's Stage for a night of flat picking Bluegrass Guitar from David Grier and Adam Schlenker.
Adam Schlenker is an educator, performer, composer and arranger of Acoustic American Roots Music. Adam founded 5th Fret Productions in 2009 combining online, video based lessons with one on one instruction. He adopted online video conferencing early on as a teaching platform and now his private student base stretches across the US, throughout Europe and Australia. 
In 2018 Adam took on the role of Coordinator of American Roots & Bluegrass Music Studies at Denison University where he leads the Bluegrass Ensemble, Teaches a Seminar Course on composing and arranging roots music, teaches private lessons for guitar and mandolin as well as the History of Bluegrass & American Roots Music course.
Adam strives to develop music that reflects his influences while attempting to keep the music moving forward. Paying homage to his predecessors like Norman Blake and John Hartford through his own compositions. This approach to making music, innovation through tradition, continues with his latest album, The Ghost's of Pain Creek.
David Grier's journey to becoming one of the greatest flatpick guitarists in the world started at a young age at the feet of Bluegrass legend, Bill Monroe.
David Grier's father Lamar Grier, was a member of "Bill Monroe's Bluegrass Boys" in the mid-1960s. Throughout his childhood, David spent hours listening to Monroe as well as many other prominent pioneers of Bluegrass music. Among the most influential to him were flatpick guitarists Clarence White, Tony Rice and Doc Watson. David Grier quickly found a strong passion for guitar and began to develop what is now his own world-renowned distinctive style.
David has toured and recorded extensively with established acts such as "The Country Gazette" and Doug Dillard as well as his own bands "The Big Dogs" with Andrea Zonn and
genre-bending banjo player, Tony Trischka, "The Helen Highwater String Band" in collaboration with Mike Compton, Shad Cobb, and Missy Raines, and "Psychograss"  with former members of the David Grisman Quintet, Darol Anger, Mike Marshall and Todd Phillips. Recognized by Acoustic Guitar Magazine as one of the "Artists of the Decade", David is a three time IBMA Guitar Player of the Year winner for his series of bluegrass albums on Rounder Records.
Food & Bar: Our full food and drink menu will be available before and during the show.