Helen and Tony: Songwriters Hall of Fame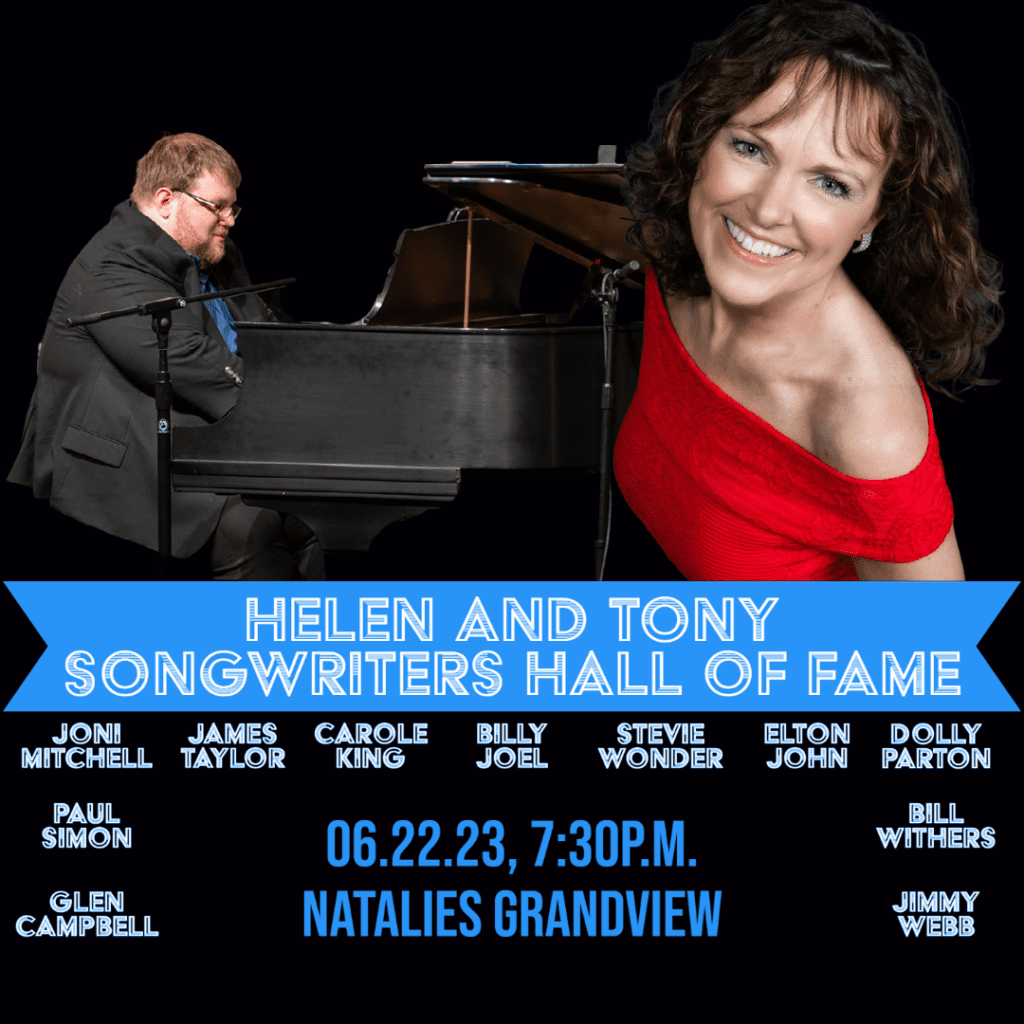 Internationally acclaimed vocalist, entertainer and producer Helen Welch together with Internationally  Accomplished Pianist Tony Hagood bring "Song Writers Hall of Fame" to Natalies on Thursday June  22nd. Together with Bryan Thomas (upright bass) and Jim Rupp (drums) this quartet will honor those songwriters whose work represents a spectrum of the most beloved songs from the worlds' popular music  songbook. 
The show will include such luminaries as Joni Mitchell, Elton John, Billy Joel, James Taylor,Bill  Withers, Jimmy Webb, Paul Simon and many more! With their own unique style of pop, blues and jazz  this much loved quartet will celebrate the legacy and work of some of the great songwriters who made  their mark in the 50's, 60's 70's and 80's. Songs include "Both Sides Now," "Wichita Lineman,"  "Goodbye Yellow Brick Road," "Fire and Rain," "Stand By Me," "Just the Two of Us," "Hit the Road  Jack!" and many more! 
Helen Welch has wowed audiences from London's West End to the Virginia Theatre on Broadway. She  has sung with world class organizations such as the BBC Big Band, the Cleveland Orchestra the Florida  Symphony and the Columbus Jazz Orchestra to name a few.  
Tony is an internationally accomplished pianist and composer from Central Ohio with a very active  performance calendar averaging 6 performances a week ranging from weddings, to corporate events,  parties, restaurants, and much more! He has played for the Columbus Jazz Orchestra, Jazz Arts Group,  Pittsburgh Symphony Orchestra, plays for and runs the jazz concert series at the Columbus Museum of  Art and the McConnell Arts Center.
Food & Bar: Our full food and drink menu will be available before and during the show.