Midwest Modern Jazz Quartet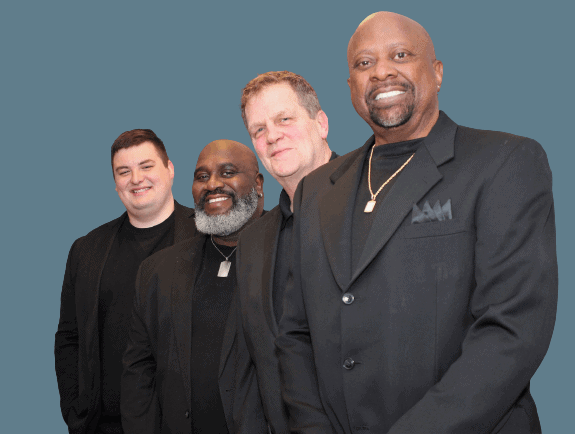 MMJQ (Midwest Modern Jazz Quartet), consisting of former Dr John bassist Dwight Bailey (bass), Kraig Phillips (guitars), Neal Cobb (drums), and David Swank (keyboards) is one Central Ohio's newest contemporary music quartets. These four musicians have worked as sidemen on the local and international music scenes for many years.  As freelance musicians, they have performed around the globe with various artist, bands and performance organizations. However, they have found common ground in the center of Ohio to form one of the most musically diverse contemporary jazz organizations on this side of the world. 
Dwight Bailey has been a part of the international music scene for many years and has performed and toured with a variety of gospel, R&B, jazz and blues artist such as Dawkins & Dawkins, Bobby Jones, Douglas Miller, Wilbert Longmire, The David Gerald Band, Teeny Tucker & most notably the late Grammy award-winning & Rock and Roll Hall of Fame artist, Dr. John.  ​
Kraig Phillips grew up playing rock guitar and then heard the great jazz guitarist Wes Montgomery for the first time, which changed the musical course of his life. Kraig devoted nearly 10 years of his career to touring with the Arnett Howard band and did a stint as guitar tech for Grammy award-winning jazz guitarist Norman Brown. 
Neal Cobb played at Columbus jazz clubs at the tender age of 15 and has backed- up local and national artist such as Ronnie Taylor, Billy Valentine, Mary Wells (the Supremes) and Chuck Jackson. Neal provides that solid, deep pocket rhythm and is a drummer well versed not only in jazz, but also in blues, funk, R&B, reggae, bossa nova, and popular music.
David Swank is a pianist and educator who has shared the stage locally with many acts such as Honey & Blue, Mistar Anderson, and Parker Louis, as well as nationally recognized artists like Bilal and Charles Bradley. In addition to his work as a sideman and session player he also fronts the David Swank trio, performing a variety of jazz styles.
Food & Bar: Our full food and drink menu will be available before and during the show.
Date: Friday, November 4, 2022