Music Monday: Sync 101
Featuring A Performance from Madi Task!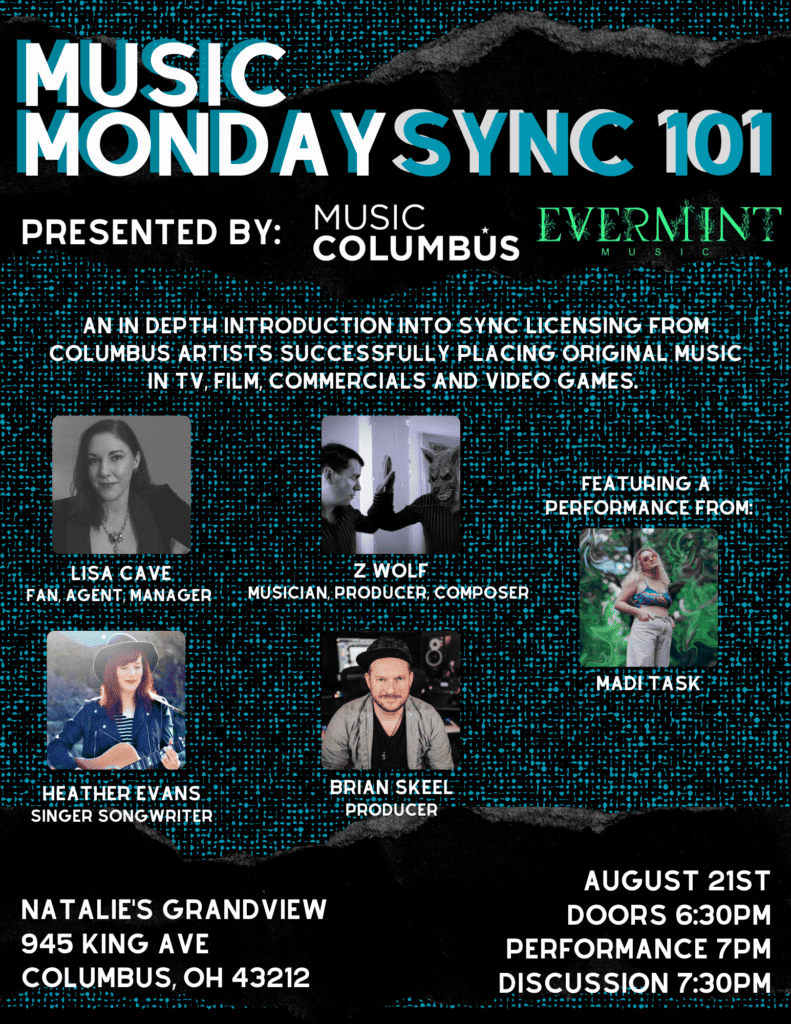 An in depth introduction into sync licensing from Columbus artists successfully placing original music in TV, film, commercials and video games. We'll cover the basics, best practices, how to write music for sync and tips for submitting music to agencies and supervisors.
Panelists:
Lisa Cave, Independent Music Fan
Lisa Cave has worked in the Columbus music industry for nearly 30 years. A booking agent, talent buyer, artist manager, serial entrepreneur. She's placed Columbus music in everything from commercials in Japan to Netflix series.
She teaches Music Entrepreneurship at Capital University. And is standing in the very back at your show.
Z Wolf
Z Wolf is a producer, composer, solo artist, and one half of the band Damn the Witch Siren. He has released a multitude of albums across a variety of genres and scored music for the films POSER and EXTREMOPHILIA. His original works have also featured in the A&E film Under the Bed and the Netflix series ELITE.
Brian Skeel
Brian works with artists all over the world to help them produce amazing records. He is an artist in the cinematic metal outfit Void Chapter on FiXT Records, as well as dark rock group Fine Citizens with Columbus legends Heather Evans and Jason Turner. Brian is also a passionate educator and teaches music production through his platform Fearless Producer.
Heather Evans
Heather Evans is an award winning Singer/Songwriter, Podcast Host and Artist Coach based in Columbus. Focusing on building her catalog over the past 4 years, Heather's music has been featured on FOX's So You Think You Can Dance, MTV's Teen Mom 2, 16 and Pregnant, ABC's Dancing With the Stars Jr, Disney's Fairytale Weddings, NBC's La Brea Promo, a new trending Netflix show First Kill, the theme song for the "Made in California" Podcast and more! Over and above all the industry recognition and accolades, Heather's main goal is to spread positivity through her life and music.
Food and Bar: Our full bar only will be available for this event.