Saint Russell's Holiday Bash featuring Dave Buker & the Historians with October Ember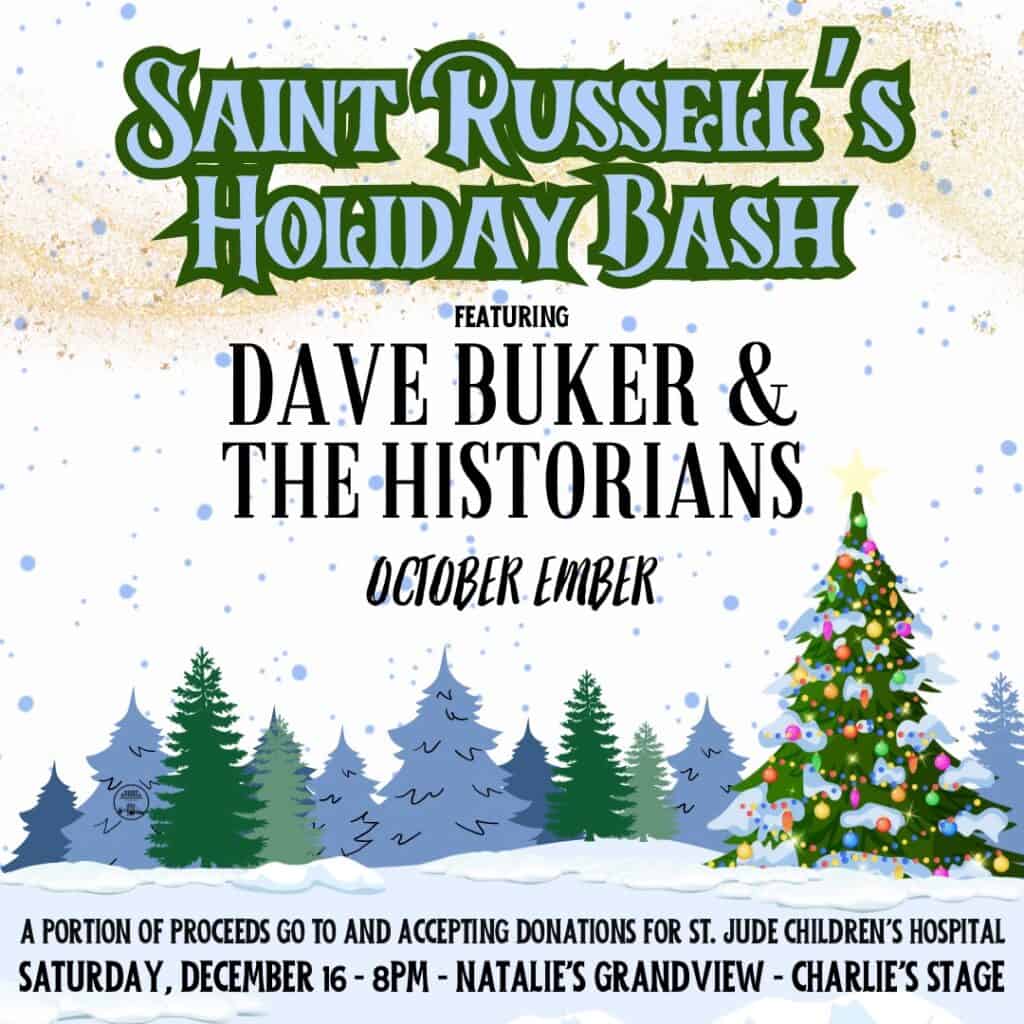 Saint Russell Productions brings you Saint Russell's Holiday Bash featuring the award-winning Columbus, OH Americana outfit, Dave Buker & The Historians with support from the must-see art-pop duo, October Ember.
This is sure to be a night to remember with great music and some terrific prizes. And just by showing up you'll be supporting an incredible cause because a portion of ticket sales go to St. Jude Children's Hospital!
The evening will also feature a charity raffle with items from Dave Buker & The Historian's, Natalies and Jesse Hubbard with the entirety of the money from the raffle going to St. Jude as well.
So, mark your calendars and be sure to join us on December 16th for the Saint Russell's Holiday Bash!
Dave Buker & the Historians: based in Columbus, OH, Dave Buker and the historians have been spreading their brand of americana since 2010. After performing at 2017's Bunbury music festival, which also featured death cab for cutie and the shins, they won cd92.9fm's local artist contest, were featured by American songwriter magazine, and opened for spoon, alvvays, and the aces. But as was true for many musicians, the covid-19 pandemic slowed the band's momentum, and they chose to focus on writing and recording new music. The result is heirlooms, the band's first album of original music since 2019's it moves in the dark.
The album is a change of pace that saw the band collaborate with new audio engineers and cultivate a more modern and energetic approach. Music blog tuned up recognized this in the album's first single, "Stubborn Blood", saying – "right out of the gate, I'm struck by the driving nature of the song and the crunch of the guitars. This is somewhat unexpected for Buker, an americana influenced indie artist that has been prolific in the Columbus scene for years." The single was accompanied by a music video that pays homage to 80's slasher films and emphasizes the more aggressive approach to the music.
Heirlooms' ten tracks show a different side of Dave Buker and the historians, at once less organic and more intimate and urgent, while maintaining the lyrical textures and vocal harmonies that have come to define the band. Check out their website!
October Ember: Sometimes playful, sometimes poignant, October Ember is comprised of Jennifer Dutiel and Kevin Holland, a multi-instrumentalist couple with a penchant for the quirky and the beautiful. A cross-pollination of folk, indie lounge, Euro Cafe, art pop, and punk cabaret, their exploration of odd time signatures, neo-minimalist pulses, ethereal timbres, and vast dynamic spectra transmutes ontology into sound. With the wisps of softened reeds, dreamy guitars, and intricate percussion, they paint an aural tapestry for the film of existence. 
October Ember formed in 2017 and launched their first self-titled EP that same year. They were featured on the Emmy-award winning television show Broad & High after their 2019 Tiny Desk Contest video submission for the song "Waves" attracted the attention of the show's producers. They release new music regularly and perform frequently across central Ohio. Since 2021, they've been livestreaming multiple times per week on Twitch, where they've built a global audience and community. Check out their website!
Food & Bar: Our full food and drink menu will be available before and during the show.
Date: Saturday, December 16