Songwriters In The Round: featuring Megan Bee, Jamie Ravine Sagle, and Caitlin Kraus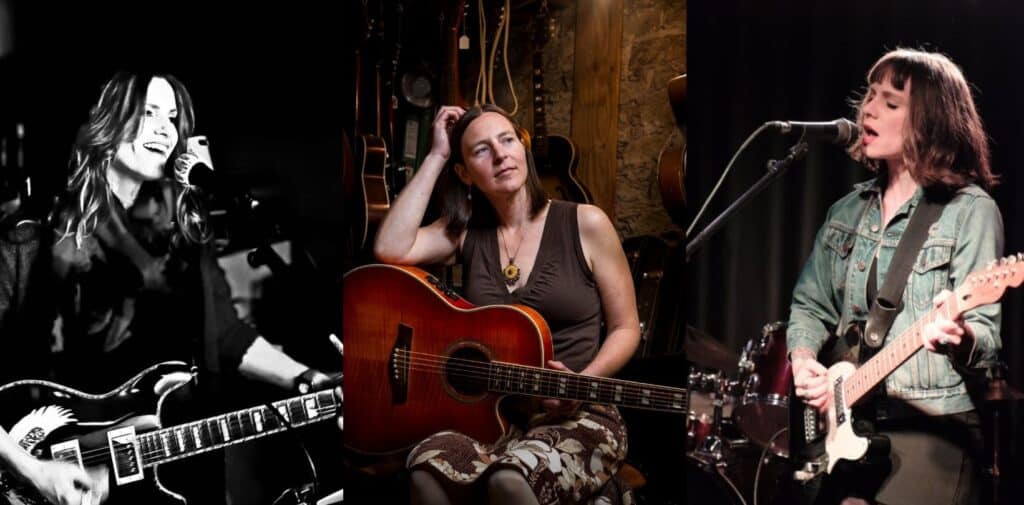 Megan Bee
Singer-songwriter Megan Bee writes with an unquenchable wanderlust and a deep love for the land. Her latest album "Cottonwood" has been called "as real as it gets – a raw and real telling of engaging, relatable stories" and was listed in the best of 2022 by Americana UK and No Depression Magazine. Her music is a blend of distinctly homespun vocals, acoustic simplicity, yearning soulfulness, and winsome storytelling. Her background as an environmental educator, traveling farmhand, and vagabond once took her into a desert wilderness where she found her voice around a campfire. She bases out of the rolling hills of Athens, Ohio and draws influence from the collision of Appalachian folk and modern songwriting.
Jamie Ravine Sagle
Jamie Ravine Sagle is an energetic local singer-songwriter whose music is a life inspired eclectic chill with vibrant crescendos and thought provoking  themes. She hosts many songwriter rounds around Columbus and plays a supportive role in the music scene by hosting a monthly meeting called "Songwriters Green Room Meet-Up," open for not just songwriters but for anyone involved in the music scene. Jamie is currently working on recording several singles to be released this year and has started a band called "The Ravines," made up of upright bass player, Dan Thompson and violinist, Megan Rae.
Caitlin Kraus
Originally from Columbus, OH, Caitlin Kraus is a singer and songwriter living in Athens, OH. Kraus has performed her music solo and with a band over the past decade. Her music is melodic, largely lyric-based, and falls within indie-folk/alternative genres. In 2016, she released a self-titled 7″ on label Keeled Scales and recorded at Estuary Recording, both based in Austin, TX, where she lived for five years. In 2020, Caitlin completed her first full-length album What Rises recorded by Bernie Nau at Peachfork Studios in Pomeroy, OH. When not writing music or performing, Caitlin works as a counselor and music therapist for adults in the mental health field.
Food & Bar: Our full food and drink menu will be available before and during the show.