The Deke Dickerson, Crazy Joe, Kyle Eldridge Power Trio
Presented by Crazy Mama's Concerts and WCBE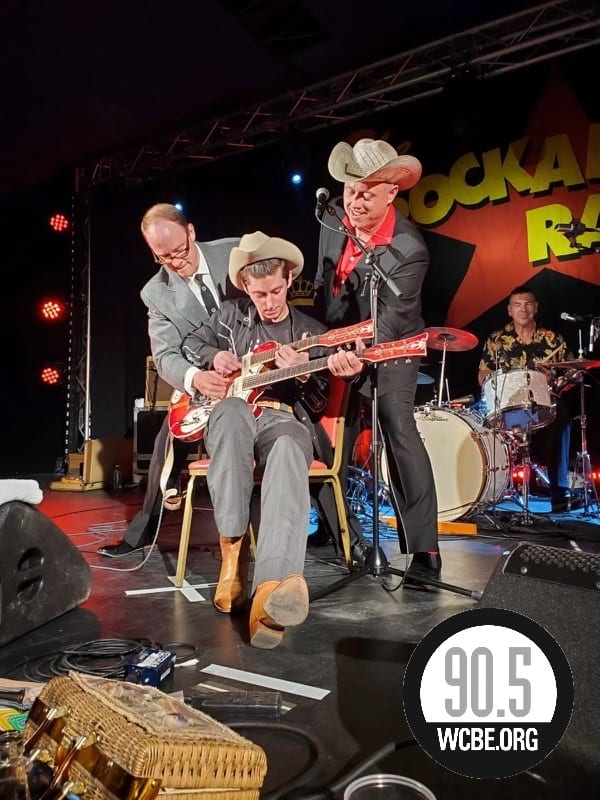 America's Roots music superhero is coming to town.
"It's a tough job, but somebody's got to do it," claims journeyman musician/singer/entertainer Deke Dickerson. As usual, Dickerson adds dry wit to a serious proclamation of his career intent: keeping America's roots music alive while interjecting new creativity—a blood transfusion, if you will—into genres of music that flourished in decades previous. Such efforts have rewarded him with the Ameripolitan "Musician of the Year" award, among other accolades.
Deke Dickerson is 52 years old and has been carrying the torch since he was 13, playing in his first rockabilly band in his hometown of Columbia, Missouri. After moving to Los Angeles at the age of 22, he carved out a niche for himself in Tinseltown. In addition to playing in his primary band, Deke Dickerson and the Ecco-Fonics, as well as his newest group, Deke Dickerson and the Whippersnappers, Dickerson has provided rootsy music for a slew of television shows and movie projects (including scoring the music for Johnny Knoxville's Paramount Pictures film Action Point).
Dickerson was born in St. Louis, Missouri. After playing in several local rockabilly bands, Deke formed The Untamed Youth at age 17 in his hometown of Columbia, Missouri. In 1991 he moved to Los Angeles and joined Dave Stuckey to form the Dave & Deke Combo, a partnership that yielded two albums and a 2005 reunion at major rockabilly festivals. Joining the Ecco-Fonics in 1998, Deke toured, signed to HighTone Records and released three albums for the label. His style incorporates country, alternative country, rockabilly, hillbilly, blues, western swing and rock 'n' roll.
Dickerson writes a regular column in Guitar Player magazine and feature articles in Vintage Guitar magazine and The Fretboard Journal. He also organizes an annual "Guitar Geek Festival" held in Anaheim, California, every January, during the NAMM Show. He owns a Ray Butts EchoSonic, serial number 24, a rare amplifier with built-in tape echo that used to belong to Scotty Moore.
Kyle Eldridge is a Country & Western singer songwriter from Louisville, Kentucky and known as one of the most prominent guitar players in the traditional scene for his Maphis/ Travis picking and Western Jazz styling.
He got his start playing in the south where he met Upright Bassist Dakota Collins who brought him to Nashville, Tennessee. They began playing Honky Tonks on the famous Broadway strip and soon after, he recorded his debut EP in Los Angeles, California at Deke Dickerson's studio.
He has played next to such artists as Jim Heath of Reverend Horton Heat, Shaun Young of High Noon, Jody & Rose Lee Maphis, The Lucky Stars, Dale Watson and many more.  Dubbed the "Heir Apparent" by Larry Collins of The Collins Kids fame, Kyle Eldridge has been burning his way into the Country & Western scene and has quickly become in demand both domestically and abroad. You can catch his show case at a music festival or a night club near you.
The King of Nerd-A-Billy
Crazy Joe Tritschler – the bespectacled engineer who looks like he works alongside comic strip character Dilbert – is the real show here. Whether he emotes country heartache with "Cryin' My Eyes Out Over You," reinvents Sam Cooke's "Nothing Can Change This Love" or pleads the bluesy "Kansas City Baby," his mid-range voice resonates with sincerity. Best of all, the technically brilliant guitar duels with guest Deke Dickerson on "Flight of the Beverly Bumblebillies," "Remington Rock" and "Pants of Fire 2007," are just flat out fun to hear.
Food & Bar: Our full food and drink menu will be available before and during the show.
Date: Thursday, September 14