The Drowsy Lads (Live Stream Concert)
Sponsored by Hilltop Lager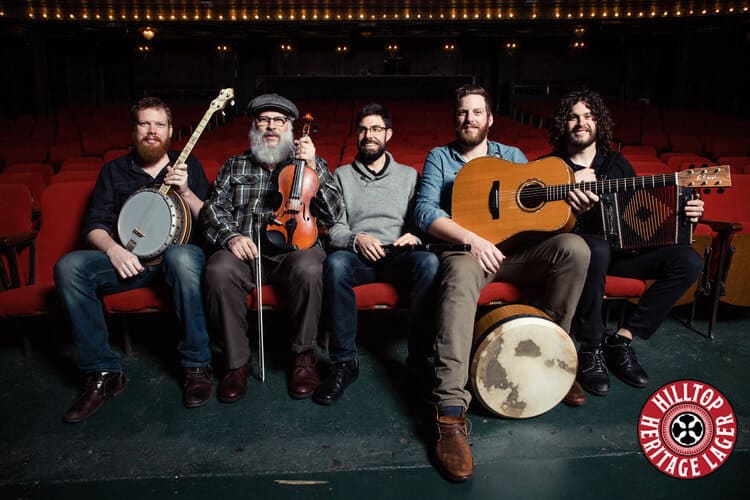 The Drowsy Lads will perform a very special live stream concert from Natalie's Grandview location, sponsored by Hilltop Lager. The Lads thundered onto the Irish music scene in the US over 15 years ago and have become fan favorites at every turn. Sticking to traditional roots the Lads bring a fire and excitement that is quickly winning over audiences. With the release of their 4th album, Everyone In, and the notable camaraderie and genuineness that flows from their live performances, the future continues to look bright for these Lads. Ohio brothers John and Daniel McKewen, father and son Phil and Josh Franck, and lifelong friend Bryan Brookes bring to the stage a concoction of "we dare you to hold still" Irish dance tunes as well as a full emotional gamut of songs and good humor. Their authentic approach and deep enjoyment of people is a refreshing surprise to both casual music-lovers and those steeped in hardcore Trad.
Besides packing out theaters, concert halls, clubs, and pubs, the Lads are lighting up Irish festivals including Milwaukee, Dublin, Dayton, Cincinnati, Indianapolis, and Louisville. They were also featured at Lakeside Ohio's Chautauqua series for four years, the beautiful Murphy theater for three, and were guest artists with the Otterbein University Orchestra.
Each Lad is a multi-instrumentalist, and the combined lineup includes fiddle, button accordion, tenor banjo, flute, whistle, guitar, bouzouki, Uilleann pipes, 5-string banjo, concertina, and bodhran. The Lads are fond of creating their own spirited arrangements and offering occasional original compositions, even mixing in some bits of Bluegrass or Classical. But these never get in the way of their obsession with the pure old Irish tunes, songs, wit, and friendship that has defined Irish music for centuries.
This concert can be viewed for free from Natalie's Facebook page or YouTube channel starting at 8 pm. Donations are appreciated and payments can be made through our PayPal link or our Venmo @NataliesColumbus. All contributions help support the musicians, production crew, and Natalie's.
Hilltop Heritage Lager was born of a thirst for American-style lager and inspired by tradition and crafted by forward-thinking modern brewers. Initially conceived by brewery staff as a refreshing beer for the end of a long shift, they soon realized the demand for Hilltop was well beyond their walls, and their approachable and affordable craft lager was quickly embraced by drinkers for all occasions.
Date: Saturday, January 16, 2021