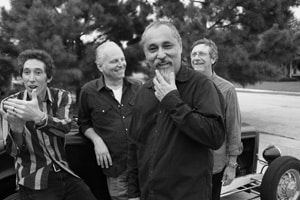 What if Americana actually encompassed ALL of the Americas? You'd have the Tejano and Conjunto sounds of the Texas/Mexico border region, as best exemplified by the accordion and bajo sexto, the American South's Blues, Jazz and New Orleans R&B, and the lilting grace and fiery passion of the music of the Caribbean, Mexico and Colombia. You'd also have New Orleans' premier distillers of this musical mélange, The Iguanas.
Taking their cues from all of the above influences and then some, the band's music redefines the notion of Americana, crossing cultures, styles, eras… and even languages. It's as if Rue Bourbon, Muscle Shoals and Plaza México were all within earshot of each other and The Iguanas were the musical conduit between them.
Based out of New Orleans for the past couple of decades save for a short, Katrina-imposed exile in Austin the members of the Iguanas have (collectively or individually) played or recorded with everyone from Charlie Rich, Alex Chilton, and Willy DeVille to Emmylou Harris, Allen Toussaint, and Pretty Lights. Their two-decade ride has taken them all over the map musically and geographically, yet the inescapable patina of their hometown infuses every note they play.
We will not be open during normal business hours for this show – ticket holders will be able to check in and the venue will open at the door time listed on this event page. 
Food & Bar: Our full bar and a limited menu of pizza, salads, charcuterie, and desserts will be available before and during the show.