Trek Manifest with Levi Brown and Afrxnts
Presented by Bertha Hill Music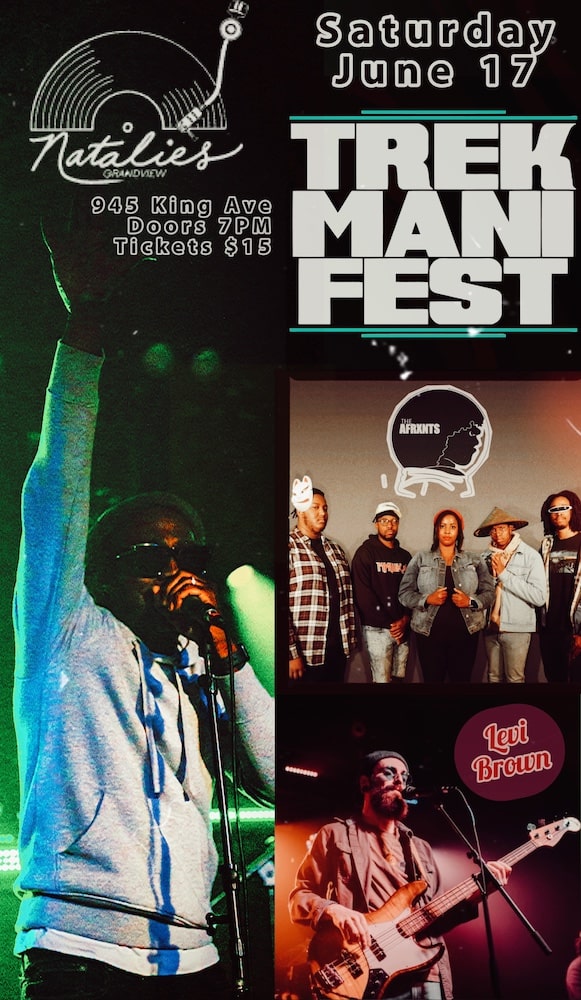 Presented by Bertha Hill Music
Trek is the man.
AYE-1 is the band.
For the first time in 2023, Trek Manifest returns to Natalie's Grandview Live Music & Kitchen with his band AYE-1! Join us for another stop on Trek's victory lap of live performances, highlighting songs from his recent albums "Everything's Personal" and "The One Day I Arrived." Recently profiled in the Columbus Dispatch for his dynamic live show and appearance at the prestigious SXSW Festival, come out and see why music fans everywhere have been left chanting "Give the people what they want!"
We're also incredibly thrilled to feature…
THE AFRXNTS are an Electro-Jazz,Hip Hop, fusion band based out of Ohio. Formed in 2013, this group of five siblings has an eclectic sound that is unlike any you've ever heard. Their self-titled EP and singles can be found on all streaming services.
LEVI BROWN is a singer-songwriter and bandleader known for his infectious fusion of soul, funk, and psychedelic grooves. After supporting the Quasi Kings and Barefuzz for sold-out performances, Levi and his band are primed and ready to get the dance floor active!
Food & Bar: Our full food and drink menu will be available before and during the show. If you have Standing General Admission tickets, a limited menu of pizza and fries will be available to order from the bar. If you would like to eat before the show we encourage you to make a dinner reservation on Resy for our kitchen side of the venue.