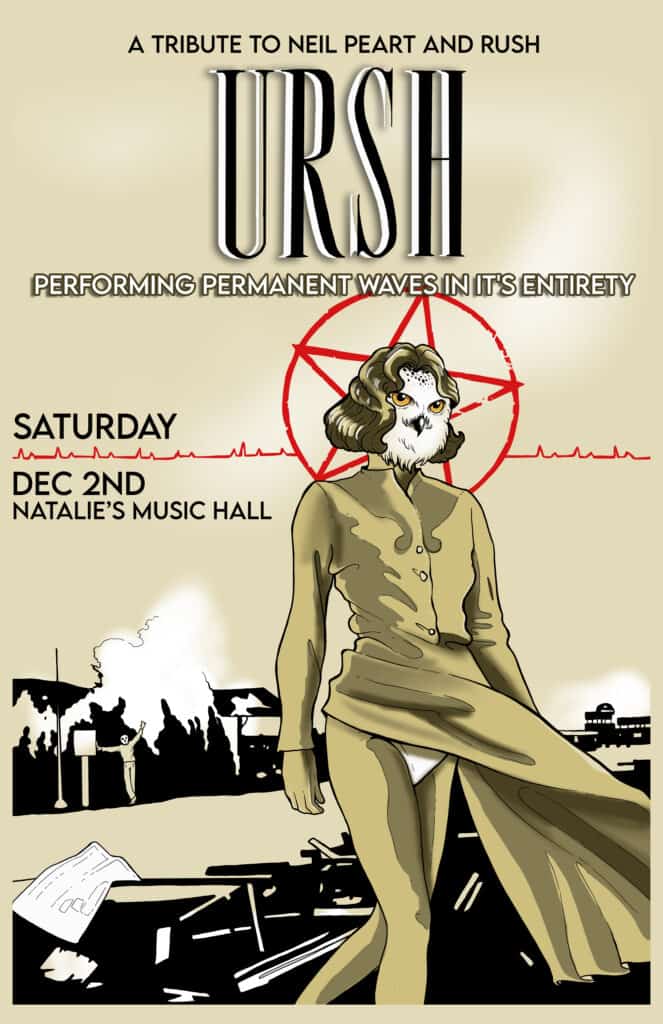 Attention all planets of the Solar Federation…for 'one night only' some of the best drummers in the city will come together to pay tribute to the late Neil Peart with an evening of Rush classics and deep cuts. 
To commemorate the third year of URSH, the band will be performing the classic album "Permanent Waves" in its entirety. Released in 1980, Permanent Waves was the first step away from Rush's early swords and sorcery epics and a foot-in-the-door to both prototype heavy metal and 80's new wave.
Featured drummers include Maxwell Button (Moonbats,) Chris Burnsides (Sleepers Awake,) Troy Kunkler (October Ember, Troy Kunkler Trio,) Billy Cool (The Deeptones,) Jared Keron (LAJ, Kazowie, TUML,) Mark Evans (Samarra,) Steven Bustos (Summon Luke, Mystic Mamba, The Turbos,) and Jared Fowler (Player's Club.)
The house band is Rob Bradley (Sleepers Awake, Mr. Fahrenheit & the Loverboys, The Liner Notes,) Bill Patterson (The Wet Darlings, Pet Rabbits, Josh Krajcik,) Brent Mullin (The Deeptones) and Levi Brown (Kumwera.)
And introducing vocalists: Luke Harris (Playing to Vapors, Summon Luke,) Brent Mullin, Stephanie Rogers and Anna Rose Flood.
*Please note that performers may be subject to change.
Food & Bar: Our full food and drink menu will be available before and during the show. If you have Standing General Admission tickets, a limited menu of pizza and fries will be available to order from the bar. If you would like to eat before the show we encourage you to make a dinner reservation on Resy for our kitchen side of the venue.
Date: Saturday, December 2