The Felice Brothers
Presented by Archie Fox Live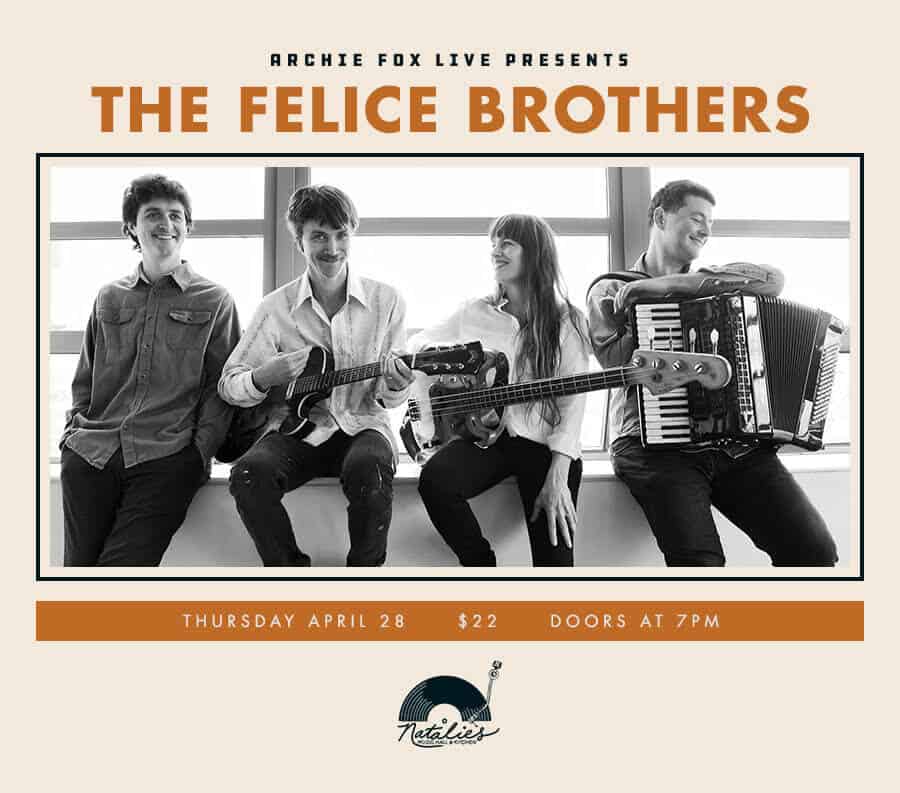 The Felice Brothers, Ian (guitar and lead vocals) and James (multi-instrumentalist and vocals), hail from the Catskills, NY, where their early songs echoed off subway walls and kept company with travelers and vagrants. Their current lineup, with the addition of bassist and inaugural female Felice member Jesske Hume (Conor Oberst, Jade Bird) and drummer Will Lawrence (also a singer/songwriter) as their rhythm section, promises to be the best yet.
Nathaniel Walcott (trumpet) and Mike Mogis (pedal steel player) act as an accompaniment throughout the tracks, the latter of whom mixed From Dreams to Dust, which was produced by The Felice Brothers.
A folk-Americana-rock-country band with deep roots in varied genres, The Felice Brothers are what Rolling Stone lauds as "musician's musicians" and poets. Indeed, Ian has proven his pedigree as a poet with the publication of his limited-edition collection of poetry Hotel Swampland (2017).
They are known by fans for their catchy tunes like "Frankie's Gun," "Love Me Tenderly," "Cherry Licorice," and "Lion" and, more recently, 2019's "Undress" and "Special Announcement," but they offer much more than a great sound. Seamlessly interweaving bizarre catalogues of literary and pop-culture references with vivid portrayals of life and its kaleidoscope of tragedies and hopes, their lyrics and dazzling musical accompaniment not only sound good but demand introspection. Some of the themes that run through their music, as Ian states, "are perennial" and are centered around "searching for something or transformation." Others explore "characters trying to achieve some ideal they're striving for" or who are "being weighed down by reality."
Date: Thursday, April 28, 2022