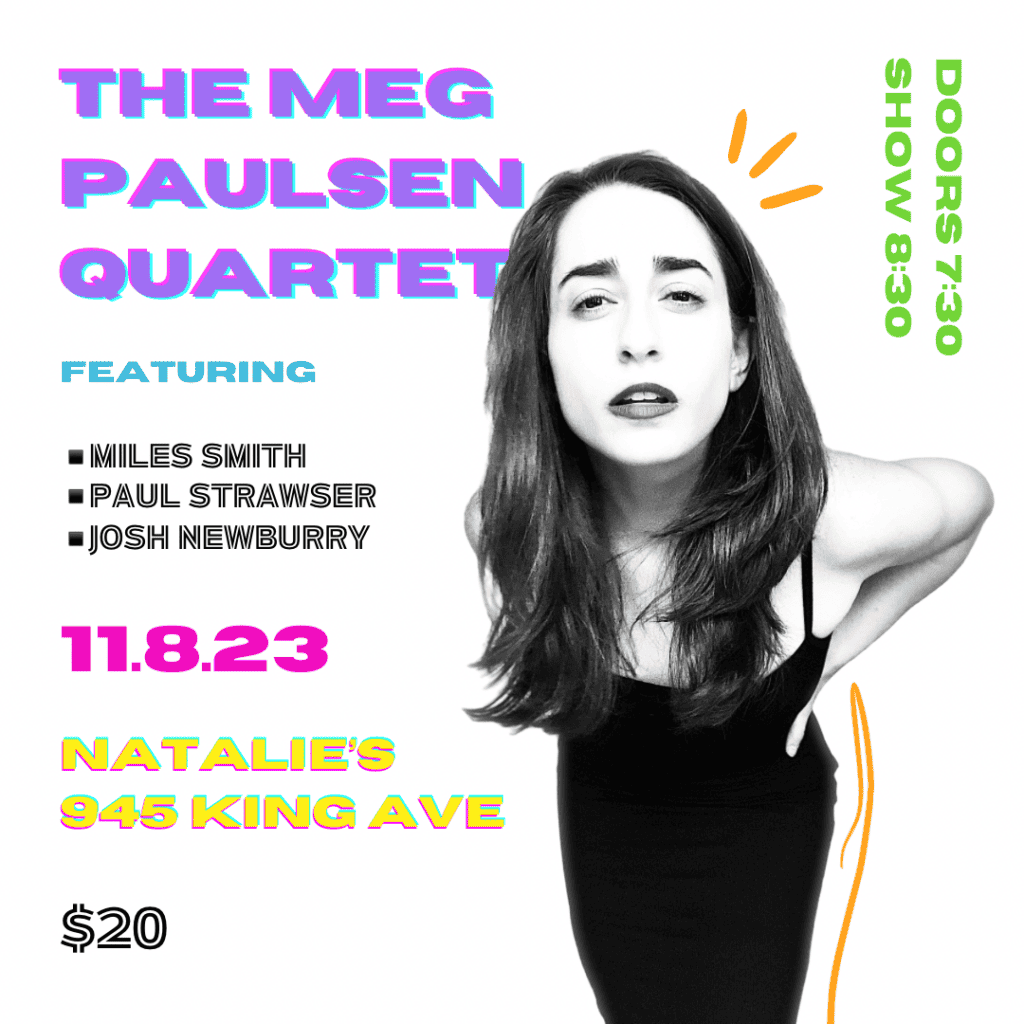 Join us for a night of jazz with The Meg Paulsen Quartet, featuring Meg Paulsen on vocals, Paul Strawser on piano, Miles Smith on trumpet, and Josh Newburry on bass. This quartet boasts some of the city's finest jazz musicians, offering two sets replete with standards, deeper cuts, and more.
Meg Paulsen is a Columbus, Ohio-based singer-songwriter with a penchant for percussive sensuality. Deeply influenced by Brazilian music of the 1960s, she feels most at home singing jazz, bossa nova, and related genres. In addition to performing and collaborating with other local artists and musicians, she is currently working on her debut EP, Garage Meats.
Follow them on Instagram 
Paul Strawser is a pianist who was born and raised in Columbus, Ohio. A 2017 graduate of The Ohio State University with a B.A. in Music, he currently works full-time as a musician in his hometown, active as both a performer (primarily jazz) and a teacher. 
Follow them on Instagram
Versatile bassist and music educator Josh Newburry is an in-demand performing and recording artist known for his joyful presence and inescapable groove. Josh performs a wide variety of styles at the highest level and has been a featured collaborator with several esteemed musical artists, including Paquito D'Rivera, Kurt Elling, Idina Menzel, Byron Stripling, Rick Springfield, Sinne Eeg, Mark Walker, Andy Narell, the One O'Clock Lab Band, and many more. In addition to the stage and studio booth, Josh can frequently be found educating youth on the history of jazz and relevant performance skills. He considers his efforts to increase accessibility to high-caliber music education as the most important aspect of his career.
Follow them on Instagram, and check out their website
Colorado native Miles Franklin Smith has made his mark citywide since first stepping onto the Columbus jazz scene in 2018. Havingperformed with some of Columbus' most prestigious jazz musicians and bands, like the Columbus Jazz Orchestra, and nationally-recognized performers like Darius Rucker, Anita Wilson, and Levi Kreis, Smith has a uniquely diverse ear that lends his sound to many other genres outside of jazz.
Follow them on Instagram
Food & Bar: Our full food and drink menu will be available before and during the show.
Date: Wednesday, November 8