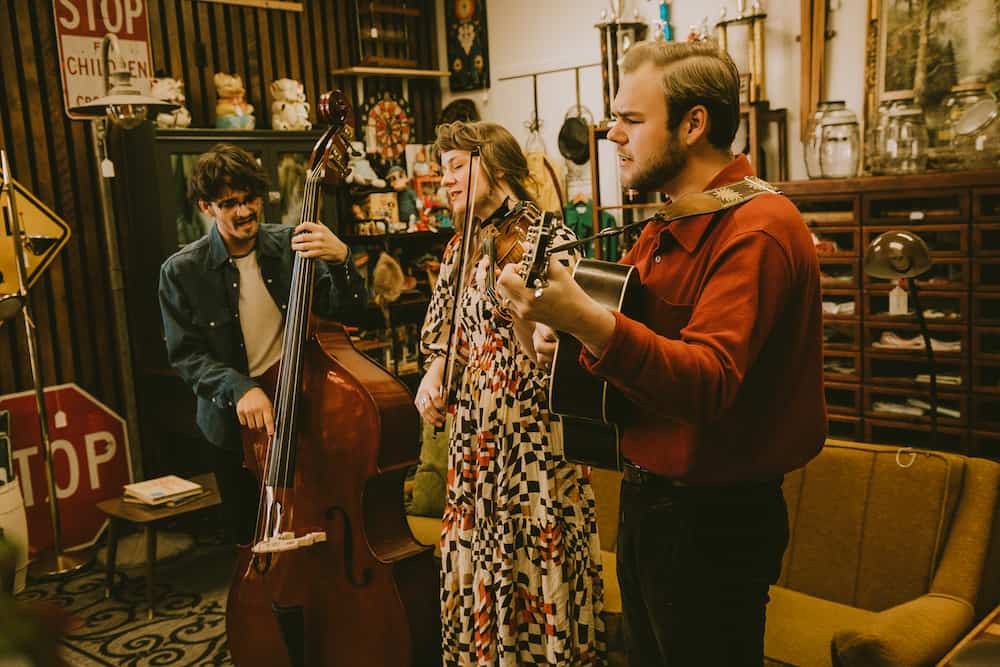 The Wildwoods are an enchanting Folk/Americana trio based in Lincoln, Nebraska, whose flowing songwriting tandem has been praised by Paste Magazine as "focused and charmingly human". The Wildwoods' delicate melodies and descriptive lyrics come from nature, love, experiences from the road, and growing up in Nebraska.
In 2016, 2017, 2018, 2021, and 2022 The Wildwoods were nominated by the Omaha Arts and Entertainment Awards as a top Americana/Folk artist in Nebraska, and in 2022 they were named "Best Band" by the Lincoln Journal Star's 'Lincoln's Choice Awards'. The group's musical momentum continues into 2023 by placing as a top 3 finalist, with more than 1,000 submissions from around the world, in the Gems in The Rough contest, hosted by popular YouTube channel GemsOnVHS. The band's most recent release, Foxfield St. John (February 2023), has cultivated a sophisticated and captivating sound to their well crafted songs and musicianship.
Comprised of husband and wife team Noah (guitar) and Chloe Gose (violin), as well as Andrew Vaggalis (bass), The Wildwoods draw inspiration from a wide range of influences including the styles of: Watchhouse, The Decemberists, Gillian Welch & David Rawlings, Peter, Paul, & Mary, Nickel Creek, Joni Mitchell, and Gregory Alan Isakov. The folk/Americana trio work to harmoniously and delicately blend their voices to create a sound so nostalgic that you may find yourself dreaming and longing for those sweet memories from your former days.
Food & Bar: Our full food and drink menu will be available before and during the show.
Date: Wednesday, October 25